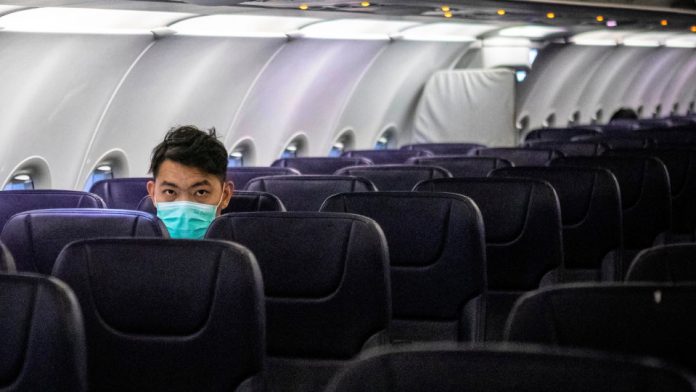 By Ilaciyah Madhushan
The aviation industry has been drastically affected throughout the COVID-19 crisis which began with travel bans imposed at early stages of the COVID-19 outbreak. Almost every country in the world has taken strict measures to fight the pandemic by the closing of borders, airports, restricting movement, and two-weeks quarantine in authorized facilities etc.
The International Civil Aviation Organization (ICAO) estimates a potential gross operating revenue loss of USD 151 to 228 billion if the first signs of recovery are seen by late May 2020. However, the estimation of loss could increase from USD 194 to 269 billion if there is no relief from the pandemic and if the industry restarts in the third quarter or late 2020.
The overall estimation is severe compared to the baseline versus impact which is approximately USD 236 to 419 billion potential gross operating revenue loss of airlines and overall reduction of 1,815 to 3,213 million passengers.
The industry is witnessing the biggest and longest demand drop since 9/11 and subsequent great recession period in the year 2008/09. The industry has faced many obstacles in the past 50 years due to socio, economic and political crisis. ICAO also analyzed data based on evaluations since year 1971 oil crisis to year 2007/08 financial crisis and up to prevailing 2020 COVID-19 global pandemic crisis.
(ICAO Air Transport Reporting Form A and A-s Plus ICAO estimates, 2020).
Based on the most recent die down during 2007/08 financial crisis which resulted in -1.2% annual growth in global air traffic passenger demand, the estimation of COVID-19 impact aggregates between 35% to -65% than the expected decline in international passengers in 2020* (ICAO Air Transport Reporting Form A and A-s Plus ICAO estimates, 2020). To address the demand and supply gaps which airlines have pushed to reduce their network operations until the demand bounces back, for instance, some leading legacy carriers has reduced up to 98% of their network route. On the other hand, the airline companies with strong financial backing from the government are now planning to gradually increase more routes which was suspended due to COVID-19 in early March 2020.
Many airline companies may not survive until post pandemic era, CAPA center for aviation has predicted that by end of May 80% of seat factor will be go down and due to less demand, and many airlines will be grounded. Further, the companies have started to lay off their workforce in order to reduce the operation costs and survive through the crisis. CNN Business Insider emphasized that government backing is mandatory before the company faces fatal catastrophe in their business. Also, certain airlines have already sought government support and are under discussion to save their company as the demand goes down.
However, it is safe to say that the near future of air travel won't be normal during post pandemic era. IATA's Chief Economist, Brian Pearce, says: "COVID's effects on air travel are certainly going to last a number of years with no quick rebound to 2019 levels". Under the IATAs baseline scenario, it expects travel to return to normal by 2023, but under its 'setback scenario' – if lockdown continues into the autumn or if there's another wave of the virus – travel might not return to normal until 2024.
Therefore, many airlines have pushed to haul initiatives to ensure to manage their customer loyalty, passenger safety and keep commercial operations. As the first step during pre-pandemic era, leading carriers have initiated repatriation program in both commercial and under diplomatic understanding and worked along with governments, embassies and diplomatic agencies. They have also opted to convert passenger aircrafts to cargo to carry crisis relief aids, and to put aircraft to use in the crisis period. Apart from the operations, few leading carriers have declared leniency by introducing flexibility programs such as travel vouchers to their customers who has purchased and subsequently canceled their trips during COVID-19 period. The flexibility program is a win-win for both customers and the airline, as it will benefit the customer by enabling them to have maximum flexibility period up to 24 months to plan their future travel, and for the airline in long term to keep up the customer retention and in the short term to refrain from burning liquid cash for refunds when the cash flow is at the critical stage.
The worse hit from the passengers' point of view is that they cannot expect a hassle-free journey in near future. Countries will eventually open their airports and borders, however the authority will impose certain mandatory regulations to ensure the passenger safety such as aircraft disinfection process after arrival or before departure, long check-in queues with one meter social distancing between customers, removal of kiosk system to eliminate finger touch points, and longer counter check-in hours, transit hours. To eliminate this time for consumption and safety reasons the airlines will reduce baggage allowance and impose restrictions on excess baggage facility, mandate online check-in and wear face masks all the time. Also, airports will have compulsory facilities such as thermal cameras to check customer temperature. Hong Kong airport already added passenger disinfection channels prior to embarking and disembarking at the gates.
However, any initiative newly added to the service will be costly. For an instance, suggestion to block the middle seat inside the aircraft may not work in the long run, and from a business perspective. Any airline must carry at least 80% of seat factor to manage and yield revenue passenger-kilometers (RPKs, which measure the volume of passengers carried by an airline), therefore if the middle seats were eliminated, the airline may not be able to cover the cost even with 100% seat factor with the remaining seats.
Bureau of Transport statics has forecast air fare will go down by 35% during post pandemic era, that is including the whole year of 2021. It reveals that the prices will increase again by 27% after the demand bounces back, which will take at least three to four years. This is purely due to the gap between supply and demand where the industry is now suffering with more supply than demand. Also, due to current the oversupply issue and severing operation costs, many airlines are likely to retire Airbus 380 and Boeing 747 aircrafts and will reinstated with tight aircrafts to take maximum advantages on marginal utility.
Source – Bureau of Transport Statics
However, there is a contradicting situation which push the airlines to a deep dilemma since there is a huge gap between demand and supply. The air fare reduction is going to be the worst nightmare for the industry at present grounds and eventually the companies will face bankruptcy in reality. Alexandre de Juniac, Director General of IATA has mentioned to CNN that in these conditions airlines will not be able to fly unless the ticket prices must be increased 50% to 100% for airlines to make money and cover their cost hence future of airline will not rely with cheap air travel. (CNN: Higher prices, fewer amenities: New era of air travel)
Many industry leaders believe taking out the middle seats to ensure social distancing on board is unrealistic but instead the airline can mandate face masks, placing sanitizers on board and airlines should invest on aircraft disinfection process to ensure passenger safety. However, in the long run, finding treatments or vaccine is the only solution to overcome COVID-19 and bounce back to normal travel life for passengers and for the airline industry.
About the writer: Ilaciyah Madhushan is an experienced Sales & Marketing professional with proven track record in Aviation travel and tourism industry for more than 10 years.