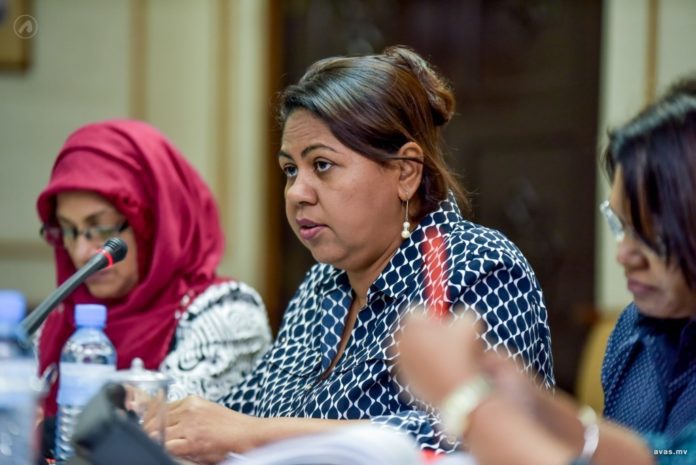 The Government has planned on launching a new housing loan scheme which can be affordable for all. This news was released by the Minister of Housing and Infrastructure, Dr. Mohamed Muizzu, the Governor of Maldives Monetary Authority (MMA), Dr. Azeema Adam and the Managing Director of Housing Development Corporation (HDC), Mohamed Simon on a press conference held at MMA.
According to Dr. Azeema, currently they are discussing with the banks on this matter, and planning on issuing this loan scheme for the public before the end of next month. She further added that this loan scheme will be released for 3 years and up to Mrf 2.2 Million can be taken. Additionally, this  scheme is introduced with the aim of aiding people in obtaining flats, and on home construction.
"Our aim is to make 10% of the total loans that banks issue to be under this scheme. We believe that it would not be convenient for banks to issue huge amounts of loans at the same time; therefore, at the moment we are planning on making 3% of the total loans under this scheme which can be used to purchase 300 to 350 housing units" Azeema stated.
Under this scheme, interest rates will be charged on the below details:
Down payment totaling to 20% will have an interest rate of 5%
Down payment totaling to 10% will have an interest rate of 5.5%
Down payment totaling to 5% will have an interest rate of 6%
According to Azeema, if any changes appear on market within the duration of the loans taken under this scheme, the interest rate cannot be amended within the first 10 years' time. However, after the first 10 years, based on the market rate, interest rate might be changed; however, only with the approval of MMA.
Azeema stated that during the first phase of this scheme, MMA plans on issuing loan for about 200 Gaakoshi and Arabiyya flat holders who have have difficulties in raising finance. Moreover, MMA intends on raising fund for them to make the down payment of loans so that they can apply for loans without making the down payment.
The applications for this loan scheme will be opened by the end of August month.