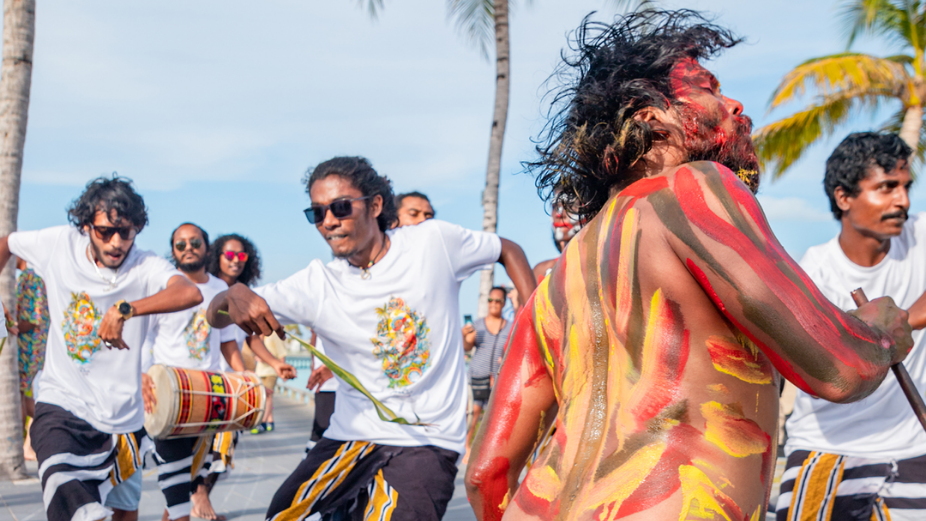 Marking the end of the holy month, The Marina @ CROSSROADS Maldives will host traditional experiences and exciting activities throughout the three-day Eid Al-Fitr celebration from 2nd to 4th May 2022. Open to public, everyone is welcome to participate and engage in the 3-day programme, showcasing the island nation traditions, arts & crafts, food, music and more.
The first day of the programme kicks off with an afternoon fun-filled Eid 'Kulhivaru' games such as fenkulhi, tug of war and beach games to name a few, that will surely keep day visitors and resort guests active and entertained. Right after, the programme will continue with Maldivian folklore starting from Bodu Mas and Maali parade to a variety show and traditional drumming performances by a Maldivian Boduberu celebrity group while singing and dancing with the crowd. 
The following day, the first half of the evening features children's event with various fun activities and games. The second half of the evening, The Marina will host a Traditional Fashion Show, showcasing inspirational Maldivian dresses and vintage clothes in the typical way of island life. Open to the public, everyone is welcome to participate or watch the fashion show, or even walk the runway.
On the final day of Eid Kulhivaru celebration, CROSSROADS Maldives brings back the awesome pop-up Street Market, offering incredible diverse scene, lined up with food, beverages, art souvenirs and clothing vendors from its two stunning resorts – Hard Rock Hotel Maldives and SAii Lagoon Maldives, The Marina, as well as small entrepreneurs from the capital Male' Island – so there is bound to be something for everyone. Be delighted with live performances, dancing to street music and enjoy crowd engagement throughout the evening.
To participate in various activities or for further information, please contact Marina Concierge Team via WhatsApp or Viber on +9607307000.
Visit The Marina @ CROSSROADS Maldives at your convenience with transfer options right at your fingertips via Mobile App. Shared Visitors' Ferries are available daily between 11:00 AM and 11:00 PM.