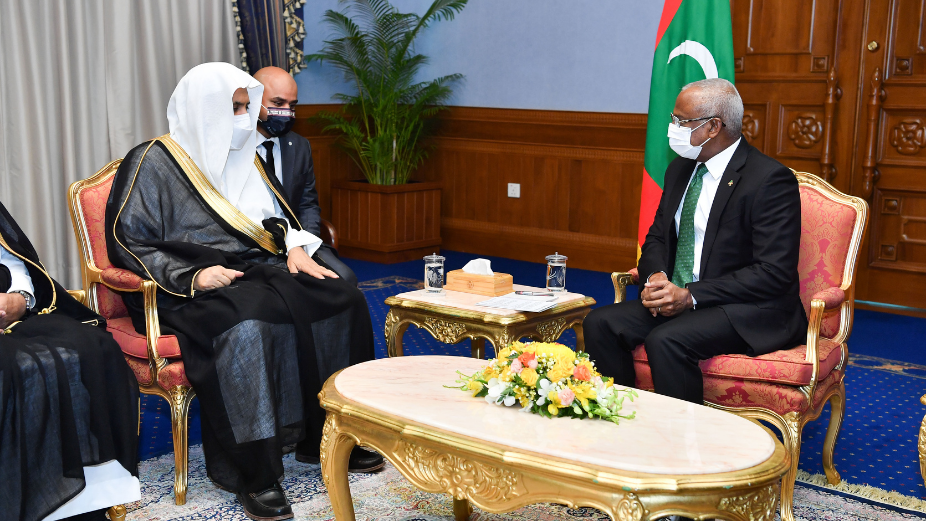 H.E. Sheikh Dr Mohammed bin Abdulkarim Al-Issa, the Secretary-General of the Muslim World League (MWL), on Monday morning paid a courtesy call on H.E. President Ibrahim Mohamed Solih at the President's Office.
At the meeting, the President and Secretary-General cherished the long-standing fraternal ties that have developed between the Maldives and the Muslim World League over the years. They spoke extensively on areas of mutual concern, including the propagation of Islam and tackling misconceptions about the true values of Islam.
The President stated that the credibility of the Muslim World League and its efforts have been strengthened in the international sphere under the leadership of Sheikh Dr Mohammed Al-Issa. He then highlighted the important role played by MWL in the promotion of Islam throughout the world and sought assistance in streamlining religious education in the Maldives to tackle religious extremism at the grassroots. He also requested support in instilling the true values of Islam amongst the Maldivian people to strengthen their Aqidah.
Speaking at the meeting, Dr Mohammed Al-Issa stated that it was an honour to accept the invitation from President Solih to visit the Maldives. Speaking comprehensively on the Charter of Makkah, Dr Al-Issa said that MWL is delighted to explain the charter to the Maldivian community. He said that it is a document endorsed unanimously by an unprecedented group of the world's leading Muslim scholars that fosters principles of diversity, tolerance, and mutual co-existence.
The President and the Secretary-General concluded the meeting with renewed hopes of further strengthening existing relations and assurances of their commitment to work closely together in promoting the true values of Islam.