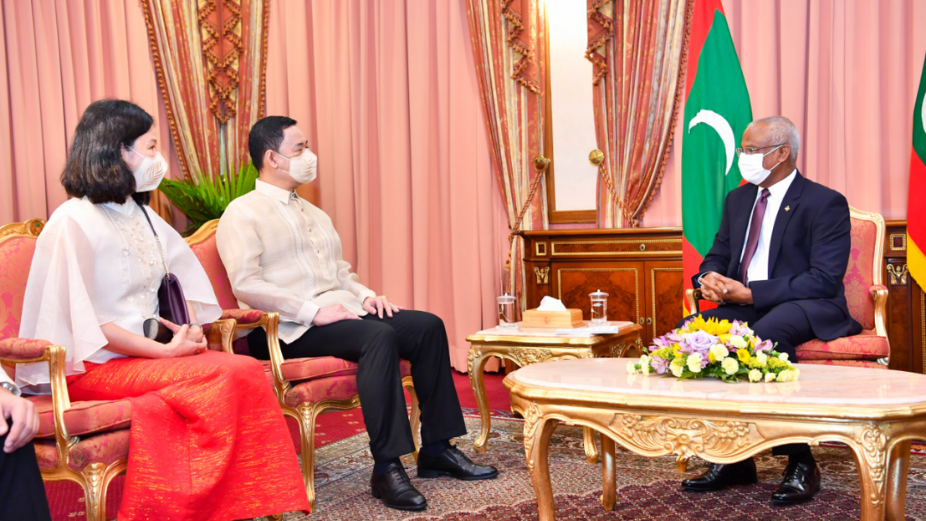 The new Ambassador of the Republic of the Philippines to the Republic of Maldives, H.E. Alan L. Deniega, has presented his credentials to H.E. President Ibrahim Mohamed Solih. The Ambassador presented his credentials to the President during a special ceremony held yesterday afternoon at the President's Office.
President Solih welcomed the Philippine Ambassador to the Maldives, congratulating him on his appointment and conveying warm wishes to the President and people of the Republic of the Philippines, H.E. Rodrigo Duterte, on his behalf and on behalf of the Maldives government and people.
The President and Ambassador discussed topics of mutual interest during this meeting, including the current state of Covid in both countries, climate change and vulnerabilities, and people-to-people connections.
The new Filipino Ambassador expressed gratitude for the Maldivian government's hospitality and assistance to the Filipino population in the Maldives, and stated that he looks forward to working as the Maldives' non-resident Ambassador.
In conclusion, the President expressed his greetings on the Ambassador's appointment and expressed hope that the Maldives-Philippines partnership would flourish further in the coming years.