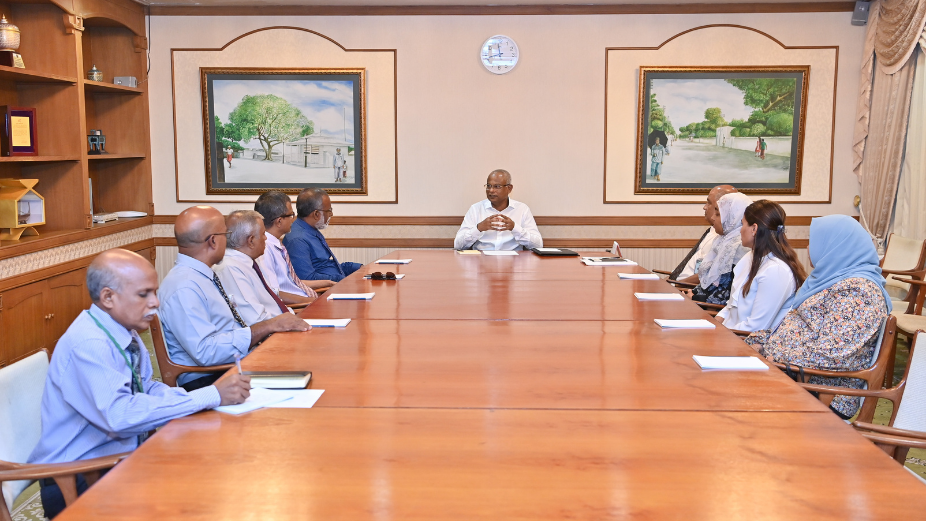 President Ibrahim Mohamed Solih on Thursday morning reconstituted the Special Awards Committee following the end of its previous term and met with the members. Speaking at the meeting held at the President's Office, the President expressed his appreciation for the sincere and invaluable contributions made to the committee by the outgoing members.
Five members of the outgoing committee were re-appointed for a new term. They are Dr. Ibrahim Zakariyya Moosa (Chairperson), Dr. Abdul Aziz Yoosuf, Dr. Ahmed Ali Manik, Aishath Shaheena, and Mariyam Shifzan. Dr. Abdul Muhsin Mohamed and Uza Aishath Samah are new appointments to the committee.
Speaking with the members, President urged them to review and re-evaluate the criteria for the awards in order to improve them further. As this year marks the 50th anniversary of the introduction of tourism to the country, the President instructed the members to seek avenues to celebrate the extraordinary contributions of notable tourism sector stakeholders.
Speaking with President Solih, Dr. Ibrahim Zakariyya Moosa expressed gratitude on behalf of the members for the trust and confidence he put in the committee. He went on to assure the President that the committee would follow his instructions in vetting and determining the recipients of the awards. The President confers the National Awards for Special Achievement—a national level award—to recognize and encourage those who bring honor to the nation and to encourage and celebrate skills, artistry, productivity, and academic excellence.