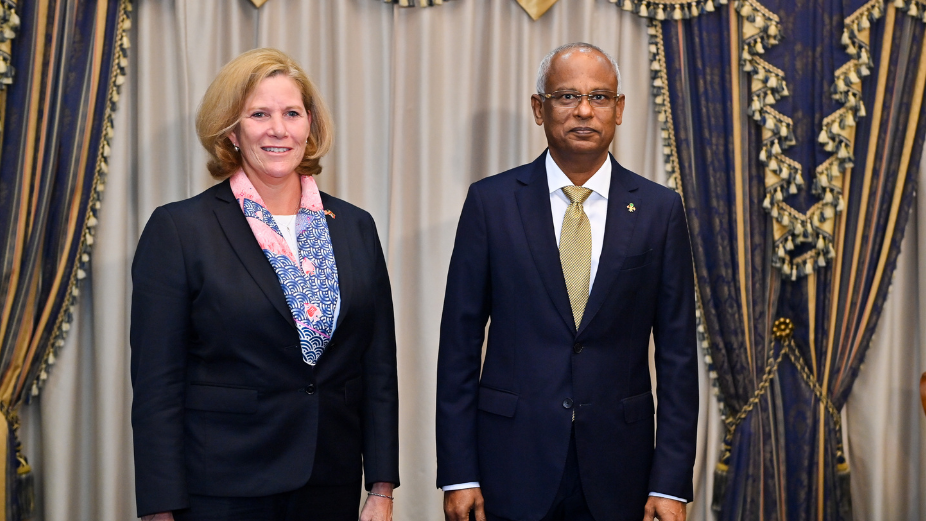 The Chargé d'affaires of the Mission of the United States of America (USA) to the Maldives, H.E. Andrea Appell, on Wednesday met with H.E. President Ibrahim Mohamed Solih. The meeting took place at the President's Office this afternoon.

At the meeting, President Solih and Ms Appell discussed the process of opening designated embassies in the Maldives and in the United States, respectively. The President said that this step would improve cooperation between the two countries and further enhance the Maldives-US relations. Ms Appell highlighted how the two countries had established diplomatic relations over 60-years ago and said that the U.S. was proud of this longstanding relationship. She noted Maldives' outstanding position globally, despite the country's size.

The President thanked the Chargé d'affaires for the continued assistance from the United States in all sectors, particularly noting the aid provided during the Covid-19 pandemic. They also discussed ways to improve Maldives' economy and defence and security in the region.

The President was accompanied at the meeting by the Secretary of Foreign Relations at the President's Office, Ibrahim Hood; the Foreign Secretary at the Ministry of Foreign Affairs, Ahmed Latheef; and the Chief of Staff at the President's Office, Uz Ali Zahir. The Acting Deputy Chief of Mission, Mr Alan Brinker, also joined the meeting alongside Ms Appell.