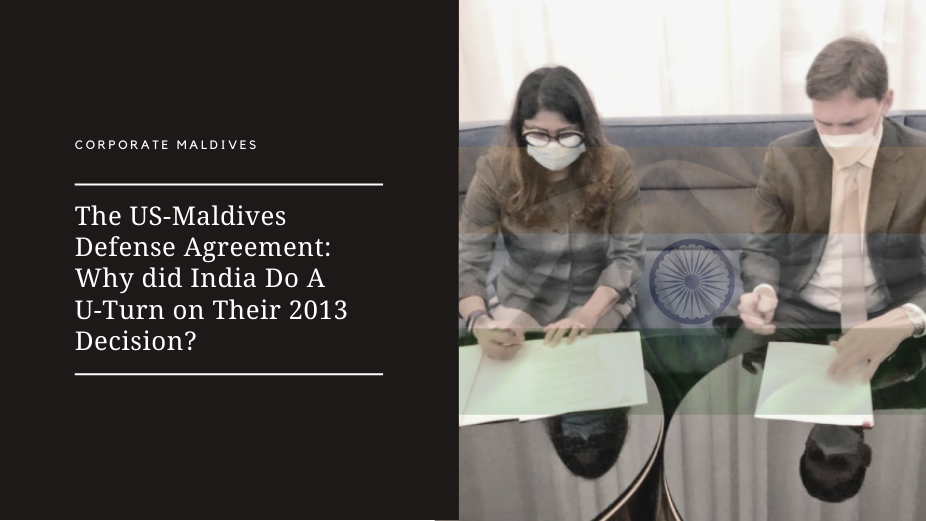 On 10th September, Deputy Assistant Secretary of Defense for South and Southeast Asia Reed Werner and Maldivian Minister of Defense Mariya Didi signed the "Framework for U.S. Department of Defense-Maldives Ministry of Defence Defense and Security Relationship" in Philadelphia. This might seem like a mere defense agreement, but its implications are more profound than you think.
The Framework sets forth both countries' intent to deepen engagement and cooperation in support of maintaining peace and security in the Indian Ocean, and marks an important step forward in the defence partnership. This agreement is being strongly supported by Maldives' close ally, India. Why should this be surprising?
In 2013, during the administration of former president Dr. Mohamed Waheed, India had opposed the signing of the 'State of Force Agreement' (SOFA) between Maldives and the US. According to The Hindu, India has not only welcomed this recent agreement, but the U.S. officials had shown a draft copy of the U.S.-Maldives agreement to Indian representatives in Male.
According to Indian officials, the bilateral US-Maldives framework agreement does not contain too many operational details, but rather provides broad strokes on the areas of convergence. "Most of the points mentioned (in the agreement) are very much aligned to our interest, like countering violent extremism, HADR [humanitarian assistance and disaster response] and support for rules based-order in the region," added sources.
During Former President Yaameen's administration, the relationship between India and Maldives hit the rock bottom. In 2018, Yameen lifted a 45-day state of emergency he imposed after the island nation's Supreme Court overturned criminal convictions against nine of his opponents. Several reports suggested that China had implicitly promised support to Yameen in the event that India moves to forcibly change the political status quo there. Yameen's keen willingness to sign onto China's BRI in 2014 was also suspicious.
The US has imposed all-round, high-intensity maximum pressure on China on political, diplomatic, economic and military fronts, while also deploying warships and aircraft carriers into the South China Sea with increasing frequency. US Defense Secretary Mark Esper underlined efforts to improve relations with nations like India to counter China's advances in the IOR and in order to make Beijing respect the international rules-based order.
India's huge investments in Maldives is viewed as a counter to Beijing's China-Maldives Friendship Bridge under its Belt and Road Initiative. And this agreement between the US and Maldives could dramatically change the Indo-Pacific Region.