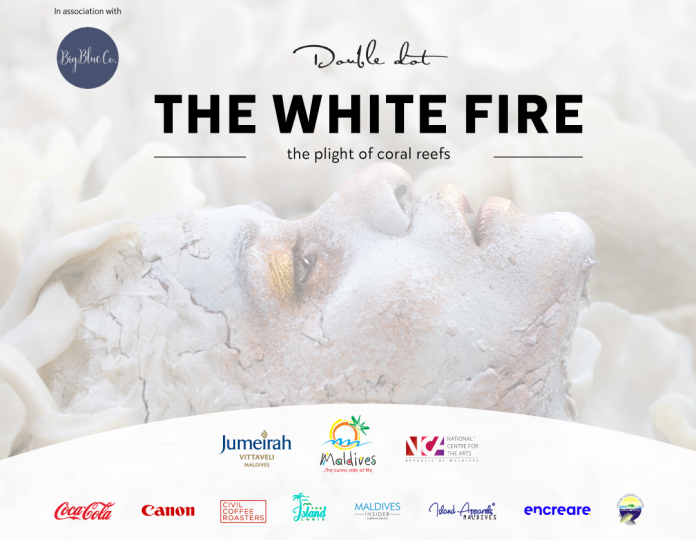 'The White Fire' exhibition by Mohamed Azmeel (Double Dot), an award-winning photographer is expected to kick off from October 21st-24th, at the National Gallery from 10 am-10 pm every day.
Hosted in association with the Ministry of Arts, Culture and Heritage, National Centre for Arts, Visit Maldives and Jumeirah Vittaveli Maldives, 'The White Fire' will showcase a photography exhibition depicting the impact of climate change in the coral ecosystem.
Public awareness sessions on the plight of coral reefs by leading professionals in the watersports industry along with the Maldives Marine Research Institute (MMRI), Parley, Banyan Tree Vabbinfaru & Angsana Ihuru and Four Seasons Fulidhoo Dive will also be conducted during the exhibition.
The speakers will highlight the importance of Marine Ecosystems, the recent change in Maldivian coral reef sustainability, coral propagation and Technological advance.
In 2016, due to high sea surface temperatures, Maldives faced a 'bleaching' crisis where around 60% of all assessed colonies and up to 90% in some areas, were bleached. 
The Maldives contains around 3% of the world's coral reefs and the islands are considered particularly at risk of climate change because they are low-lying and threatened by sea level rises.
Azmeel (Azzu or Double Dot) is a Photography Ambassador for Visit Maldives, and has been named amongst the Top 10 International Photographer 2018/19 by Asia's largest photography community PPAC. His work has been widely published in several magazines through Asia, Europe and America.