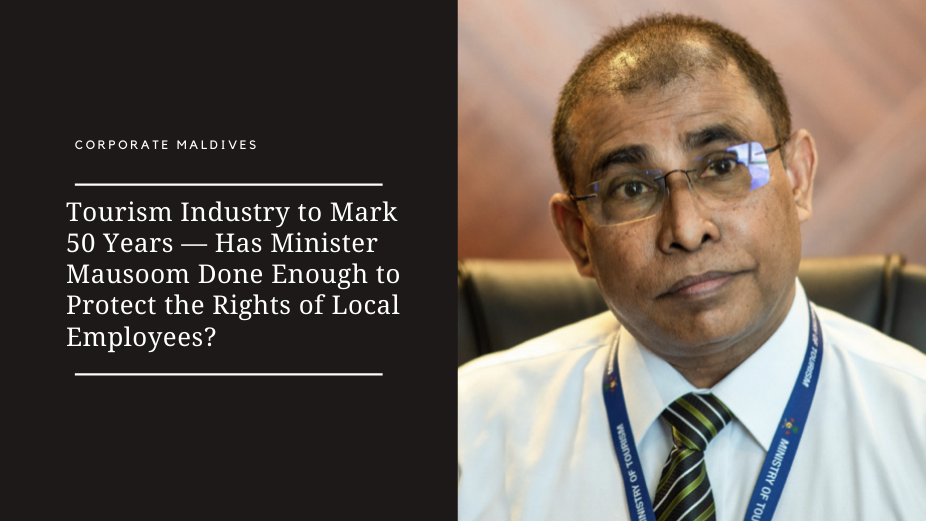 Next year, tourism in the Maldives will be marking its 50th anniversary. While we celebrate the achievements and progress we have made over the decades, it is equally imperative that we consider the foundational pillar upon which our main economic driver is built — tourism workers.
Since assuming the ministerial office on 6th August 2020, Dr. Abdulla Mausoom has spoken many a times about the empowerment of our local workforce. However, in actuality, has he taken enough steps to ensure that concrete action backs up the dialogue? Has he really done enough to protect the rights of Maldivian employees?
Dr. Abdulla Mausoom is a man that, simply put, lives and breathes hospitality. He has spent a number of illustrious years in the tourism industry, serving in various leading roles prior to his appointment as the Minister of Tourism. Most notably, in the mid-2000s, he was the Head of the Maldives Tourism Promotion Board, and was appointed the General Manager of Sun Island Resort from 2013 until 2018. Mausoom has also worked as a tourism industry consultant, trainer and lecturer for over 10 years, was actively involved in the development of 3rd Tourism Master Plan of the Maldives, and is the lead author of the Ministry of Tourism's 2008 publication "35 Years of Tourism".
Taking all of this into account, it could be argued that there are few who understand the plight of tourism workers better than Dr. Mausoom. Undeniably, there have been some positive developments since he assumed the ministerial office. For example, the introduction of mandatory rules on levying service charge aimed at tourism sector ensured higher incomes for workers. According to the new regulations, in assessing the days worked by an employee, their paid leave and off days should be counted and included. Additionally, if service charge is not collected by a tourism sector business according to law or if an employer fails to distribute service charge as required by law, a fine not exceeding MVR 100,000 would be levied.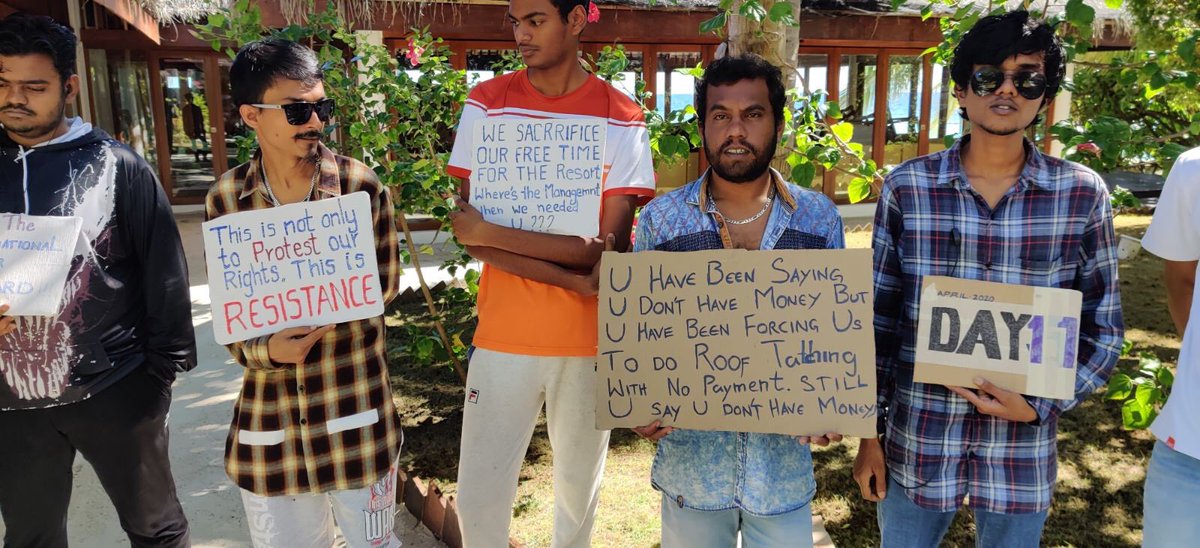 However, there have been complaints by tourism workers who state that certain resorts are not fully adhering to these regulations. Utilizing some loophole or the other, it is claimed that these resorts are cutting corners and not compensating their workers as well as they should. Whether or not this is occurring due to a lack of monitoring and policing, remains an unanswered query.
Furthermore, it now seems that the Minister Mausoom's focus has shifted away from empowering our local workforce entirely, and is now geared towards the promotion of tourism in the global market, and the lease of islands for resort development. Destination marketing, it can be contended, is not under the jurisdiction of the Ministry of Tourism, but rather, it is a responsibility of the Maldives Marketing and Public Relations Corporation (MMPRC), a government body mandated with this exact purpose. In fact, it is a task that the corporation carries out very well, the results of which are evident from the sector's rapid recovery in a post-COVID world.
As we reach the golden jubilee of tourism in the Maldives next year, the pride we have for our most lucrative industry sits alongside the shame we feel about the suffering of its workers. Protecting the rights of our labour force, the ones working tirelessly to keep our economy afloat, should be at the top of any Tourism Minister's agenda. Dr. Abdulla Mausoom, though he has only spent a year in the ministerial office so far, should be doing more, listening more, and shifting his priorities towards tourism workers. Indeed, it is on their backs that this entire industry has been built.