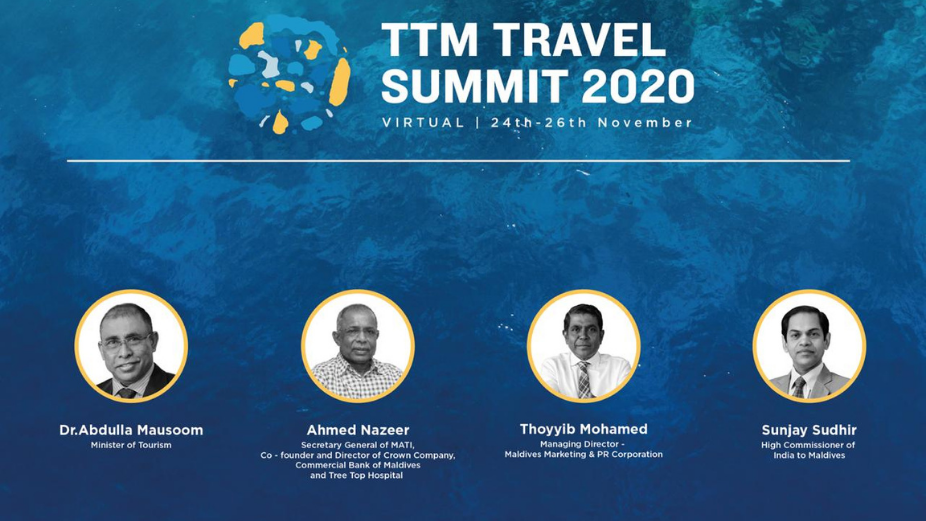 Tourism Minister, Dr. Abdulla Mausoom will be attending and speaking at the TTM Travel Summit 2020. Other distinguished speakers at the event include Secretary General of MATI Ahmed Nazeer, Indian High Commissioner to the Maldives Mr. Sunjay Sudhir, and Managing Director of MMPRC Thoyyib Mohamed.
The summit will also be joined by a number of other industry professionals across various aspects of tourism, such as resort managers, key members of leading OTAs, and international airlines operating in the Maldives.
As part of this year's TTM Travel Summit focus of 'Reigniting Tourism in Maldives', Minister Dr. Abdulla Mausoom will be sharing strategies by the government to uplift the Maldivian hospitality industry once more. Dr. Abdulla Mausoom has been engaged in the Maldivian tourism industry since 1985, serving in key high-level positions across government and corporate bodies.
Ahmed Nazeer, current Secretary General of Maldives Association of Tourism Industry (MATI), will be addressing a number of issues that revolve around the travel sector. Ahmed Nazeer is also the co-founder and director of Crown Company, Commercial Bank of Maldives and Treetop Hospital, and has worked in both public and private sectors in various capacities.
Indian High Commissioner to the Maldives, Mr. Sunjay Sudhir will also be gracing the event, probing the viability of India as a top travel market to the Maldives. Mr. Sunjar Sudhir was appointed High Commission of India to the Maldives in 2019, and has since been working closely with the Maldivian government to help boost the country's economy.
Thoyyib Mohamed, Managing Director of Maldives Marketing and PR Corporation (MMPRC), will be highlighting destination marketing plans to reignite tourism in the Maldives, outlining the various strategies to secure visibility and grow potential markets. As the leader of the Visit Maldives team, Thoyyib Mohamed's insights will be invaluable to the TTM Travel Summit, with regards to promoting Maldives as the ultimate holiday destination.
Apart from this, the TTM Travel Summit 2020 will be bringing in other perspectives to destination marketing strategies, as well as the challenges being faced within hospitality facilities.
TTM Travel Summit is an annual event that brings together thought leaders, industry shapers and senior decision-makers who are professionally engaged with tourism in the Maldives. This year, the 4th edition of the TTM Travel Summit will take place virtually from 24th to 26th November 2020. It will be hosted by Dolores Semeraro, a multilingual hospitality speaker, certified digital marketing trainer and coach with 15 years of experience in Tourism and Hospitality.
The TTM Travel Summit 2020 will be made live on the TTM website and the TTM Facebook page.
Travel Trade Maldives is a product of Orca Media Group, a leading media and marketing company in Maldives.