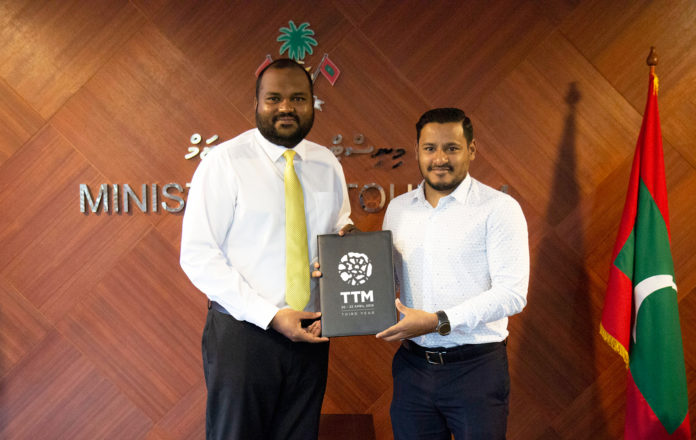 Minister of Tourism, Honorable Mr. Ali Waheed has confirmed as the Chief Guest for the kickoff event of Travel Trade Maldives 2019 – TTM Travel Summit. Travel Trade Maldives also known as TTM is set to span up to 3 days (11th June till 13th June 2019) with multiple events being held at different venues including resorts and capital city Male'.
Minister Waheed is expected to inaugurate the 3rd TTM Travel Summit and greet the Summit which targets "Travel Technology & Analytics" which will help travel industry to unleash analytics, dynamic pricing, digital and AI potential to deliver unstoppable customer loyalty and profit.
Over 100 resorts/hotels properties in the Maldives have confirmed their participation in TTM 2019. More than 250 international buyers/media will attend the show. Premium Exhibitors include Adaaran Resorts, Kaimoo Hotels, Crown & Champa Resorts, Bandos Maldives & Villa Hotels & Resorts Maldives. TTM will host the 3rd edition of their annual Gala night on the 13th of June at Adaaran Select Hudhuranfushi. June 12th to 13th has been dedicated to the 2nd Maldives Supplier Expo. More than 50 suppliers will have one on one prescheduled meetings with over 100+ resorts with departments such as procurement, accounts, finance, F&B and so on.
TTM aims to facilitate the tourism industry of Maldives to reach the ultimate target of 2 million tourists with over USD 3.5 billion in receipts by the end of 2020. More than 300 hoteliers, suppliers, related industries and travel industry professionals from the Maldives and abroad are expected to attend TTM to network, negotiate and discover the latest industry opinion and trends in the Maldives.