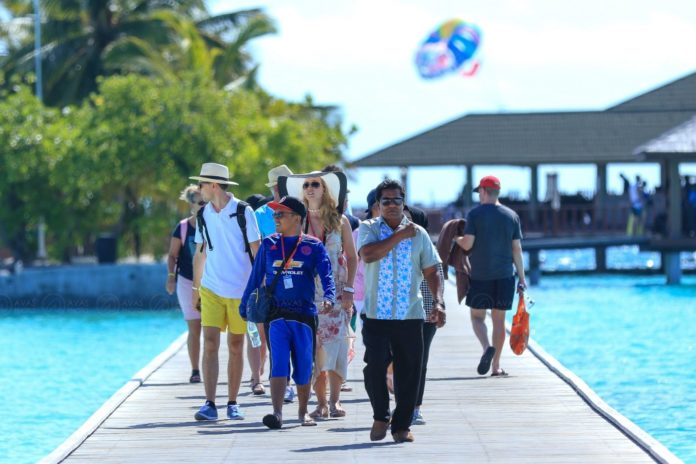 The number of tourist arrivals in the Maldives during 2017 is expected to be 7 percent more compared to previous year.  According to Tourism Minister Mr Moosa Zameer's statement given to "Avas", at the end of this year, 1.3 million tourists are estimated to have arrived in the Maldives. This is around 7% increase compared to 2016.  "this year 95,000 more arrivals are expected more than 2016" he said.
According to the statistics, 1,286,135 tourists arrived in 2016 and 1,234,248 arrived in 2015. By year end of 2017, a total of 1,375,000 tourist arrivals are anticipated by the Ministry of Tourism, Maldives.
The Minister also highlighted that the biggest challenge in bringing tourists right now is the difficulties and lack of capacity in Velana International Airport. He said that till the development of the airport is completed only around 1.4 to 1.5 visitors will arrive.
He added that a substantial increase will be seen only when the airport development project is completed. And that It will reduce the time required for airlines to reach taxiway by 10 minutes, giving additional time to land other flights and such.
According to Mr Zameer, during past two years, 20 new resorts have been opened and by next year a total of 50 new resorts will be opened.
Travel agencies state that right now the average occupancy of resorts in the Maldives is between 75-90 percent and guesthouses is between 85-95 percent.
The USD 1-billion-dollar airport development project is being carried out with the target of bringing 7 million tourists once it is complete. A new runway, passenger terminal and oil storage will be built during this project.