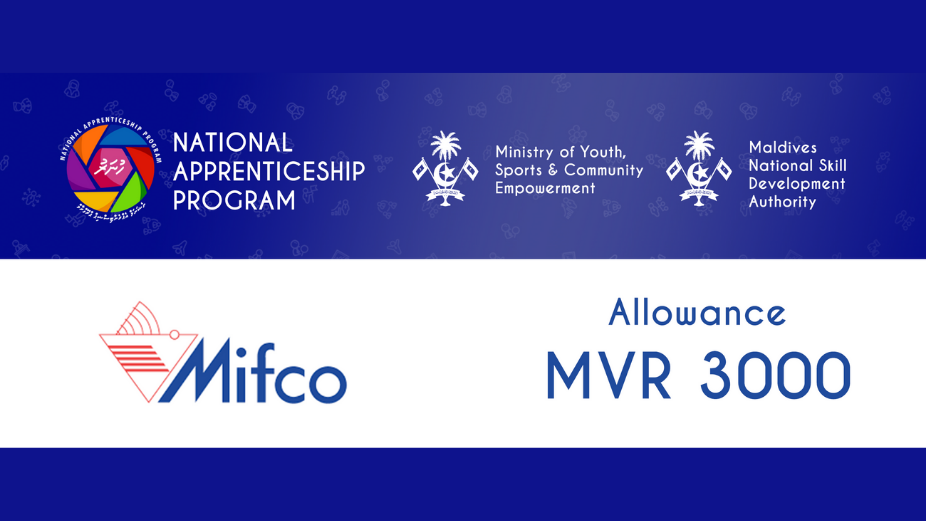 Ministry of Youth, Sports and Community Empowerment in partnership with Maldives Industrial Fisheries Company (MIFCO) have opened training opportunities for the youth under the national apprenticeship program.
Under the National Apprenticeship Program, youths will be able to get training at MIFCO from several departments. This includes automotive mechanics, marine mechanics, electricians, refrigeration and air conditioning mechanics, fish processing and quality control officers as well as welders.
Here is your chance to take part in our National Apprenticeship Program! @mifcomv is offering 19 apprenticeship opportunities. Apply before 24th February 2022. For registration visit: https://t.co/mONni0GHWG
For inquiries: call 1456 or nap@youth.gov.mv pic.twitter.com/CF2Qb8WFBY

— Ministry of Youth,Sports and Community Empowerment (@MoYSCEmv) February 22, 2022
MIFCO is offering 19 apprenticeship opportunities and applications are now open until 24th February 2022. They are also offering an allowance of MVR 3000 monthly under this program.
To apply and register for the program, please visit https://forms.gle/vkM2NHGbgjcx8pwF6 and for more inquiries please call 1456 or email nap@youth.gov.mv
National Apprenticeship Program is an initiative by the Government of the Maldives for Training a generation of Practitioners of a Trade or Occupation with on-the-job Training with the help and supervision of the Industry/Occupation Leaders in the Maldives. At the end of the Apprenticeship Program the Apprentice will receive a National Certificate in that trade which is widely accepted around the Maldives from TVET Authority.