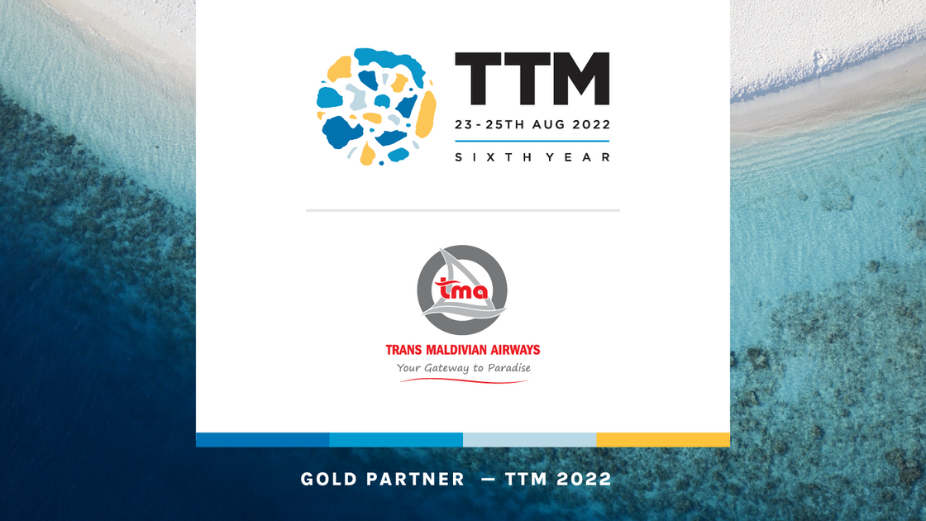 World's largest seaplane operator, Trans Maldivian Airways (TMA) has signed as a gold partner for TTM Maldives 2022, the country's leading international travel trade show, which will be held from 23rd – 25th August 2022.
TMA is nearing a fleet of 60 aircraft and currently operates to over 80 resorts across 14 atolls. More than 300 TMA flights take to the Maldivian skies every single day, totalling more than 100,000 trips per year. Close to a million passengers are transported every year further solidifying Trans Maldivian's pivotal role in the Maldivian Tourism Industry. TMA's services also include photo flights, private charter, excursions, and medical evacuation flights. 
The Maldivian tourism industry owes credit to Trans Maldivian Airways for providing seamless connectivity to resorts and providing expert care for tourists who use their service. Now, sitting at the top of the game, TMA is considered the backbone of the tourism infrastructure in the Maldives.
As part of TTM Maldives 2022, the TTM Connect meetings will be held at Meeruma Conference and Facility on 23rd and 24th August 2022. The TTM Travel Summit and TTM Awards & Gala will be hosted at CROSSROADS Maldives on 25 August. More than 200 hoteliers, suppliers, related industries, and travel industry professionals from Maldives and abroad are expected to visit TTM to network, negotiate and discover the latest industry opinion and trends in Maldives.
The registered exhibitors of TTM will also get a lot of added benefits including the usage of "Connect" Portal to pre-arrange meetings online prior to the event. Exhibitors will also get access to the invitation-only TTM Travel Summit and Awards & Gala night. Every year, TTM Maldives sees over 3000 pre-scheduled meetings with over $1 billion worth of contracts discussed.
Partners of TTM Maldives 2022 also include Maldives Marketing and PR Corporation, Ooredoo Maldives, CROSSROADS Maldives, Jalboot Maldives, HRS International, IDeaS and Trans Maldivian Airways.
For further information, please email ttm@traveltrademaldives.com