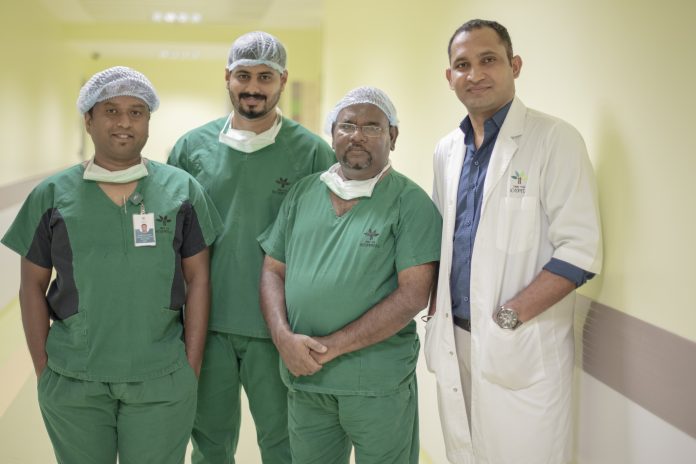 Tree Top Hospital has successfully completed its first revision Total Knee Replacement (TKR) surgery on February 19, 2020. Revision TKR is a surgical procedure in which the surgeon removes a previously implanted artificial knee joint or prosthesis and replaces it with a new prosthesis. This is the first time a revision TKR surgery has been performed in Tree Top Hospital as well as any private hospital in the Maldives.
This surgery was performed on a 61-year-old local woman. She had undergone a primary TKR surgery 8 years ago and required revision surgery due to the implant becoming loose and damaged. Due to this, the guest had endured difficulty in her mobility and had not been able to walk for 6 months prior to the revision surgery. After 11 hours of surgery, the guest was able to walk comfortably with the aid of a walker the very next morning.
The surgery was led by Orthopedic Surgeons, Dr. Ali Muznee and Dr. Ganesh Rajeshwar, and assisted by a skilled clinical team of anesthesiologists and nurses.
Tree Top Hospital's Orthopaedic specialists possess extensive expertise on minimally invasive surgeries and reconstructive surgeries. Our surgeons utilize cutting edge technology and techniques to improve care for individuals of all ages with issues in all areas relating to Orthopaedics.