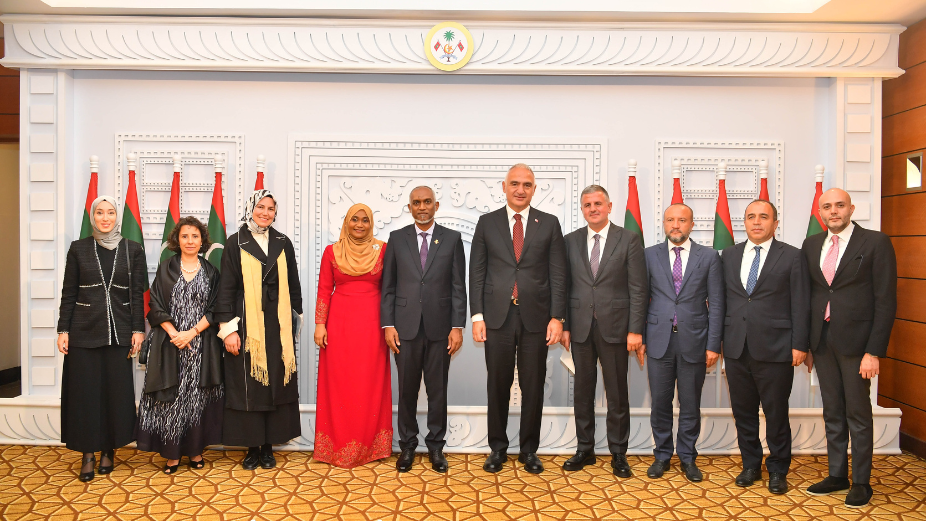 Minister of Culture and Tourism of the Republic of Türkiye, Mehmet Nuri Ersoy, has stated that investors from Turkey are willing to make reciprocal investments in the Maldives.
Minister Ersoy made these remarks during a courtesy call to President Dr Mohamed Muizzu, who was inaugurated as the eighth president of the Maldives on Friday. The Turkish minister highlighted the strengthened relations between the Maldives and Turkey, particularly in recent years under President Recep Tayyip Erdoğan's leadership.
Minister Ersoy held bilateral meetings with Members of Parliament and business representatives during his visit to explore potential collaborations between the Maldives and Turkey. He expressed confidence that relations and friendship between the two countries would continue to grow stronger within mutual understanding and cooperation.
Cumhurbaşkanımız Sayın @RTErdogan'ın öncülüğünde özellikle son yıllarda ilişkilerimizi güçlendirdiğimiz Maldivler Cumhuriyeti'ndeyik…

Devlet Başkanı olarak seçilen Dr. Mohamed Muizzu'nun Başkent Male'de gerçekleştirilen yemin törenine ülkemizi temsilen katıldık.

Ülkelerimiz… pic.twitter.com/fMPJoka4Ah

— Mehmet Nuri Ersoy (@MehmetNuriErsoy) November 17, 2023
The courtesy call occurred at Kurumba Maldives Resort, where President Muizzu expressed gratitude to the Turkish minister for participating in his inauguration. Minister Ersoy, extending greetings and congratulations on the recent presidential election, invited President Muizzu to undertake a visit to Turkey in the near future.
Minister Ersoy stated that the government of Türkiye remains hopeful of fortifying partnerships with the Maldives in tourism, education, and travel industries by expanding the number of flights to the Maldives. Additionally, he mentioned that investors from Turkey are interested in making reciprocal investments in the Maldives.
In response, President Muizzu expressed his commitment to enhancing bilateral ties with Türkiye, citing shared cultures and beliefs as a basis for cooperation.
Türkiye's Minister of Culture and Tourism was among the foreign diplomats and dignitaries who attended the Maldives to participate in the new president's inauguration from around the globe.