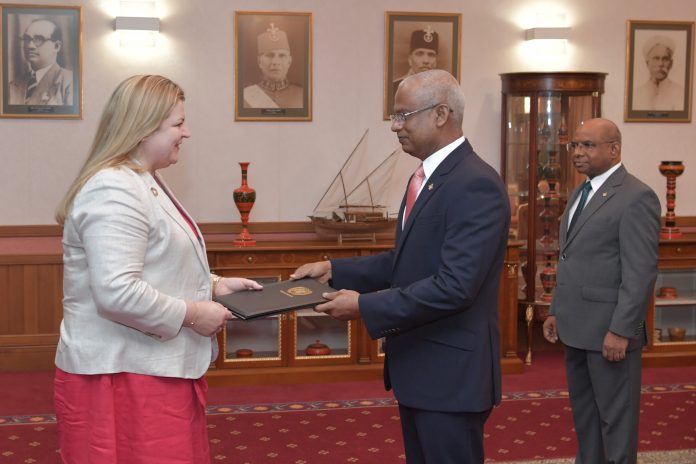 Ms Catherine Haswell, the United Nations Resident Coordinator to the Maldives, has presented her credentials to President Ibrahim Mohamed Solih at a ceremony held at the President's Office this morning.
Welcoming Ms Haswell to the Maldives and congratulating her on her appointment, President Solih expressed his confidence that Maldives-UN relations would take more significant strides under her tenure. He also expressed his appreciation of the organization's undertakings in the Maldives and highlighted some of the areas of importance.
In this regard, President Solih emphasized the UN's role in assisting the Maldives in the areas of combatting terrorism and violent extremism, and climate change mitigation and adaptation. The Resident Coordinator noted that building cohesion within the UN programmes to better coordinate the assistance provided by the UN would be one of her priority areas.
Ms Haswell extended greetings to President Solih from Mr António Guterres, the UN Secretary-General, and Ms Amina J. Mohammed, the UN Deputy Secretary-General. Describing President Solih's Administration's Strategic Action Plan (SAP) as an ambitious agenda, Ms Haswell assured the UN's continued support and cooperation towards fulfilling the plan. She further congratulated the President on the Administration's stand on various issues, including its stance on women empowerment and gender equality.
In conclusion, the President thanked the UN and its agencies for the continued support and assistance to the Maldives and expressed his confidence in strengthening cooperation with a renewed spirit under Ms Haswell's tenure. The ceremony was attended by Abdulla Shahid, the Minister of Foreign Affairs; Ali Zahir, the Chief of Staff at the President's Office; and Sabra Ibrahim Noordeen, Secretary, Foreign Relations, at the President's Office.