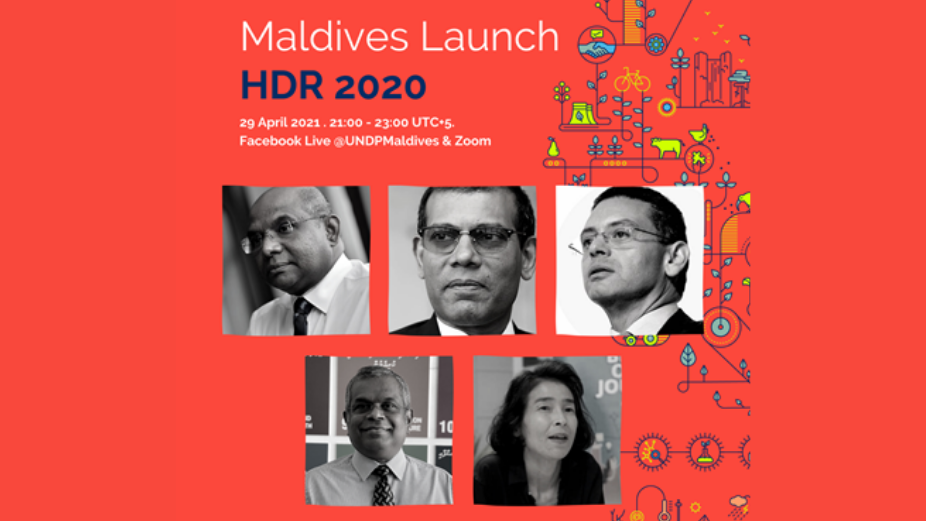 UNDP Maldives has announced the Maldives launch of the 2020 Human Development Report.
For the past 30 years, the United Nations Development Programme (UNDP) has published the Human Development Report (HDR) as a way to critically analyze global development efforts by putting people at the center of the development process. The 2020 Human Development Report, 'The Next Frontier: Human Development and the Anthropocene' looks at how humanity can navigate this new age of humans as a dominant species, unpacking the relationships between people and the planet and showing how our impacts on the Earth interact with inequalities across societies.
There is an exciting line-up joining UNDP for the launch, including Minister of Foreign Affairs Abdulla Shahid, Former President Mohamed Nasheed speaking as the Climate Vulnerable Forum Ambassador for Ambition, and Pedro Conceição, Director of UNDP's Human Development Report Office in NY. The report will be launched by Minister of State for Environment Dr Abdulla Naseer and UNDP Resident Representative Akiko Fujii.
The high-level segment will be followed by a panel discussion – 'Human Development and the Anthropocene Dialogue'.
Join the launch on April 29, 2021 21:00 to 23:00hrs via UNDP Maldives Facebook Live and Zoom http://bit.ly/Maldives2020HDR.