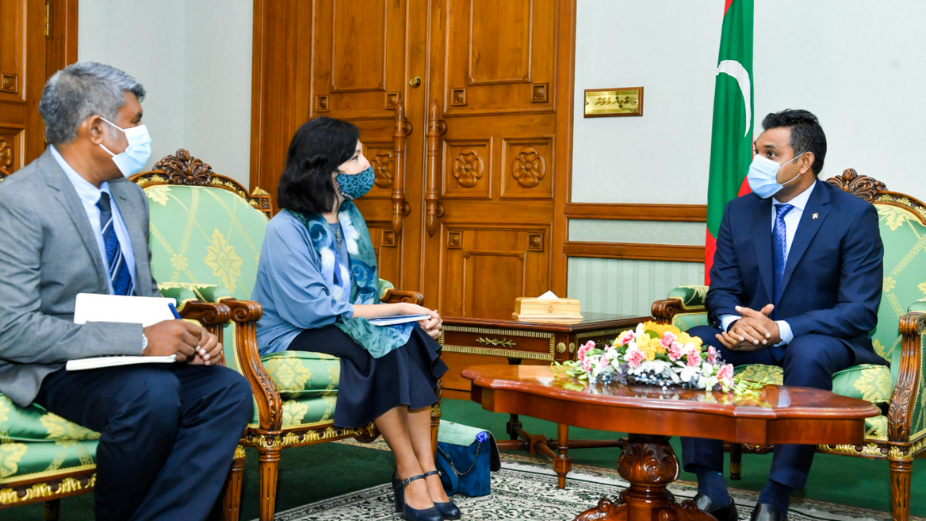 The newly appointed United Nations Children's Fund (UNICEF) Representative to the Maldives, Ms Marjan Montazemi, paid a courtesy call on Vice President Faisal Naseem this morning at the President's Office.

The Vice President welcomed Ms Montazemi to the Maldives and expressed his gratitude to UNICEF for the guidance and continued support extended to the Maldives in various areas, including the Covid-19 crisis. Additionally, UNICEF Maldives has received 12,000 doses of the Oxford-AstraZeneca vaccines manufactured by the Serum Institute of India as well as 5,850 doses of Pfizer vaccines under COVAX facility to support the Covid-19 vaccination campaign.
During the meeting, Ms Montazemi outlined the strategy for carrying out the work planned in the Maldives to promote children's rights during her tenure. Further conversations took place in the areas of including young people in climate change advocacy and community involvement in child-related issues.

The Vice President emphasized that protecting and promoting children's rights in the Maldives is a top priority for this administration, and he briefed Ms Montazemi on the work being done to make the Maldives a better place for children. In this regard, he touched on the ratification of a Child Rights Protection Act and the establishment of an independent Child Rights Ombudsperson's Office tasked with overseeing government and social compliance with child rights principles and standards.

Ms Montazemi stated that UNICEF is committed to continuing collaboration with Maldives in ensuring that child rights are protected. The Vice President expressed his hope that the strong partnership between the Maldives and UNICEF would continue to flourish in the coming days.