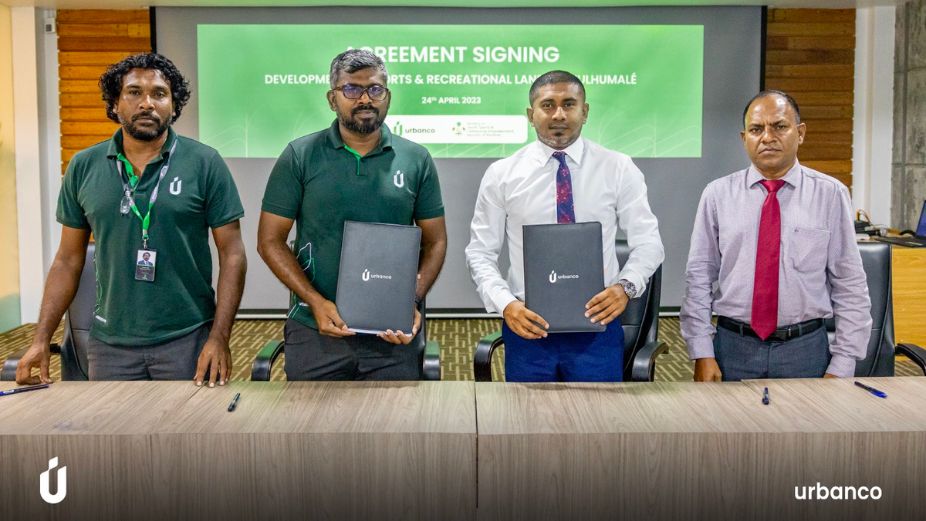 Urbanco has signed an agreement with the Ministry of Youth, Sports and Community Empowerment for the development of a land plot in Hulhumale'. The agreement was signed by the Minister of Youth, Sports and Community Empowerment, Ahmed Mahloof, and the Managing Director of Urbanco, Ahmed Athif.
Under the agreement, a land plot of 5.4 hectares has been allocated to the Ministry of Youth, Sports and Community Empowerment from Hulhumale' Phase II. The land is intended to be developed into various sports and recreational facilities that would cater to the wellness and recreational needs of the youth and community.
Urbanco, a state-owned company, has expressed its commitment to prioritizing youth-related sports and recreational activities as part of its efforts to develop Hulhumale' as an architecturally advanced smart city. With the increasing number of residents in Hulhumale' Phase II, the project is expected to provide ample opportunities for conducting a wide range of activities that promote physical fitness, well-being, and community engagement.
Urbanco has a proven track record of providing world-class sports facilities in Hulhumale'. The company has been instrumental in the development of indoor and outdoor sports courts, skate parks, and water sports facilities in the area. Additionally, Urbanco has also developed parks and children's playgrounds in various parts of Hulhumale' to provide entertainment and relaxation options for people of all ages.
As Hulhumale' continues to grow as a vibrant urban centre, the Youth Ministry's agreement with Urbanco marks a significant step towards creating a sustainable and inclusive environment that promotes youth empowerment, sports excellence, and community engagement. The development of modern sports and recreational facilities is expected to benefit the residents of Hulhumale' and contribute to the overall development of the Maldives as a progressive and forward-thinking nation.