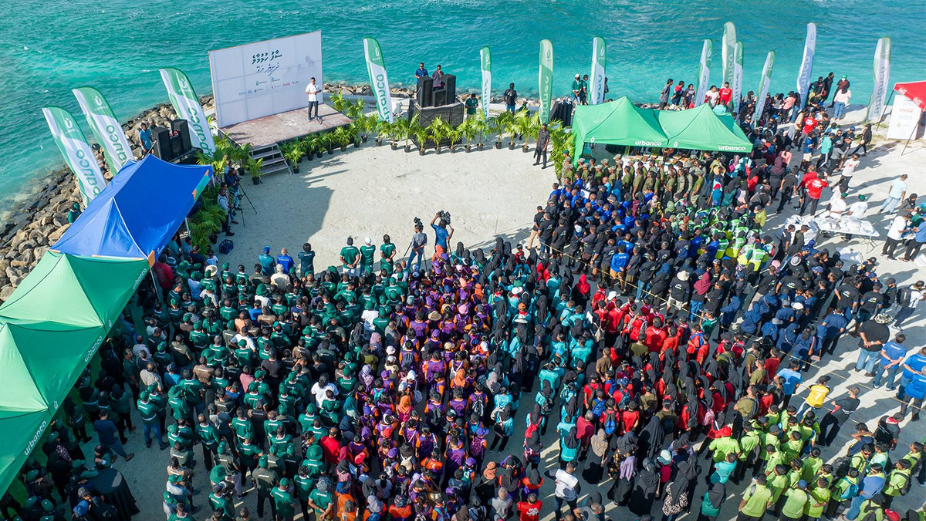 Urbanco successfully concluded its highly anticipated "Duniye Magey – Saafu Hulhumale" event which aimed to clean Hulhumale' in celebration of World Environment Day. The event, held in Hulhumale' from 7:30 am to 10:30 am, witnessed an impressive turnout of 3,000 participants representing government agencies, ministries, schools in the Greater Male' Region, and various organizations.
During the event, the residential areas of Hulhumale', including Phase 1 and 2, were divided into seven sections, with teams assigned to each section. Notably, Vice President Faisal Naseem graced the occasion, highlighting the significance of this environmental initiative. The event received support from Coca-Cola, MOPA, WAMCO, MPL, MRC, Burzu Catering, and Veliga Hardware.
The event culminated in a special ceremony, where Urbanco honoured all the participants with a commemorative plaque as a token of appreciation. This clean-up initiative marked the second successful event organized under the 'Duniye Magey' brand by Urbanco. Furthering its commitment to sustainability, Urbanco also announced a unique challenge aimed at promoting nationwide clean-up efforts.
Each participating company is encouraged to organize a large-scale clean-up event within a month and subsequently challenge another institution to do the same. In a symbolic gesture, companies are required to present a Mashandathi (Maldivian Rake) plaque to the challenging agency after completing the clean-up event. At the closing ceremony of today's event, Urbanco presented the symbolic Mashandathi plaque to STELCO, officially challenging them to undertake the next clean-up initiative.
The "Duniye Magey" campaign by Urbanco aims to raise awareness about environmental issues and promote sustainable practices. Throughout the year, Urbanco has planned various events under this brand to foster a greener and cleaner future for the Maldives.