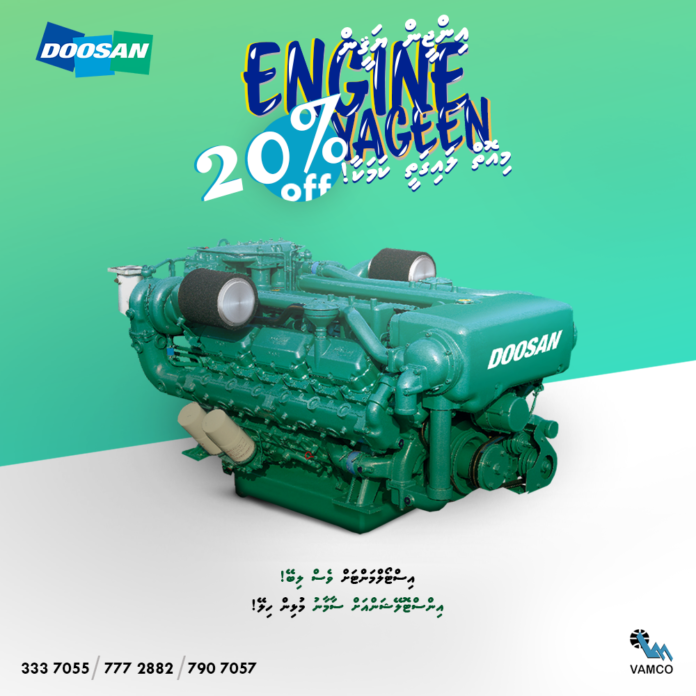 VAMCO has launched a special promotion under the name "Engine Yageen Promotion" on 16th April 2019. Under the promotion, 20% cash discount is offered to from both Doosan and Nanni marine engines. With every purchase of Doosan Daewoo or Nanni Engine, free installation items will be given along with installing and commissioning service for the engines purchased. Apart from the special cash discount, the installment facility for engine purchase is also provided under this promotion. This promotion will be carried out until 16 June 2018.
More than 500 Maldivian vessels use Doosan Daewoo and Nanni Marine Engines distributed by VAMCO. Doosan Daewoo won the Most Preferred Marine Engine Brand, Most Preferred Service Provider of the Year Award at the last three Maldives Boating Awards. These engines are renowned for their durability, low initial cost, and low fuel costs. They are also reputed for their speed, low noise, and low vibration. VAMCO offers a wide range of light, medium and heavy-duty Doosan Daewoo engines between 160 horsepower and 1200 horsepower and between 10Hp to 135 HP for small and medium-size vessels from Nanni .
VAMCO is the Sole Distributor of Doosan Daewoo and Nanni Marine Diesel Engines in the Maldives and provides repair and maintenance services anywhere in the country and through VAMCO's Service Centre.