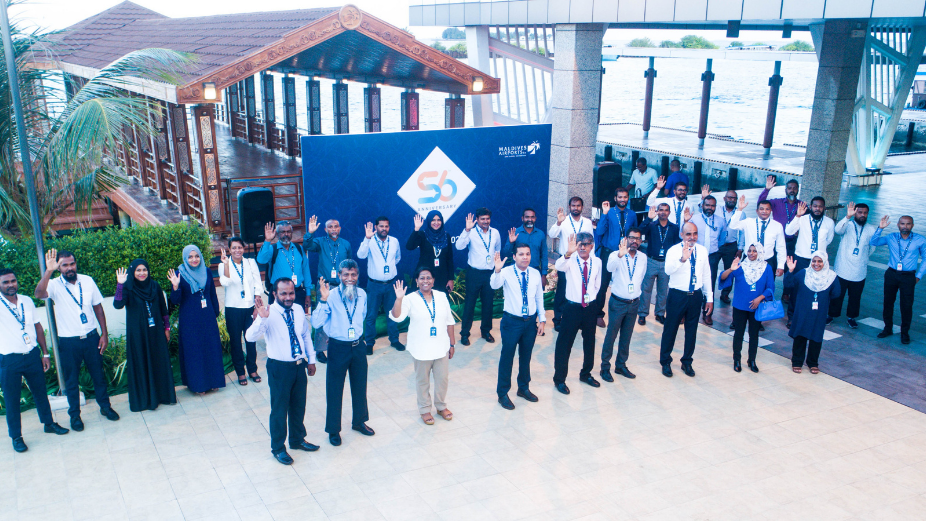 Maldives Airports Company Ltd (MACL) celebrates Velana International Airport's (VIA) 56th anniversary, today. To mark the occasion a flag hoisting ceremony was held at 0600 hours at VIA. The Ceremony was graced by the Deputy Managing Director (DMD) of MACL Mr. Ibrahim Thoha. The ceremony was joined by the senior management team of MACL.
Addressing at the event, MACL DMD Mr. Ibrahim Thoha congratulated the employees on the occasion and recognized the staff commending their hard work and dedication during the COVID-19 pandemic. DMD Mr. Thoha said, "I am very proud of each and every one of you who made this airport a success during the difficult times making this airport one of the safest airports in the world."
Speaking about the infrastructural development of the Airport, Mr. Thoha stated "This year we have plan to start the operation of the world's biggest Seaplane Terminal in the 2nd quarter and the new runway on the 3rd quarter, along with the new Fire station. The first phase of the modern VIP building is now open, and the construction work of the 2nd phase is underway as we speak." Thoha also emphasized on the temporary use of new runway, which helped the company to achieve operational efficiency. Also, MACL is working to start the operation of the new Cargo Terminal and new Fuel Farm during 2022. Apart from infrastructure development Human Resource improvements are brought like establishing new studying schemes and increasing staff salaries.
"All these developments will dramatically improve the standard of services offered to our customers and I am excited for our airline partners and stakeholders for the world class services they will soon receive." Thoha said.
Today's ceremony was concluded with a special prayer. Velana International Airport was opened by former President of the Maldives Mr. Ibrahim Nasir on April 12, 1966.