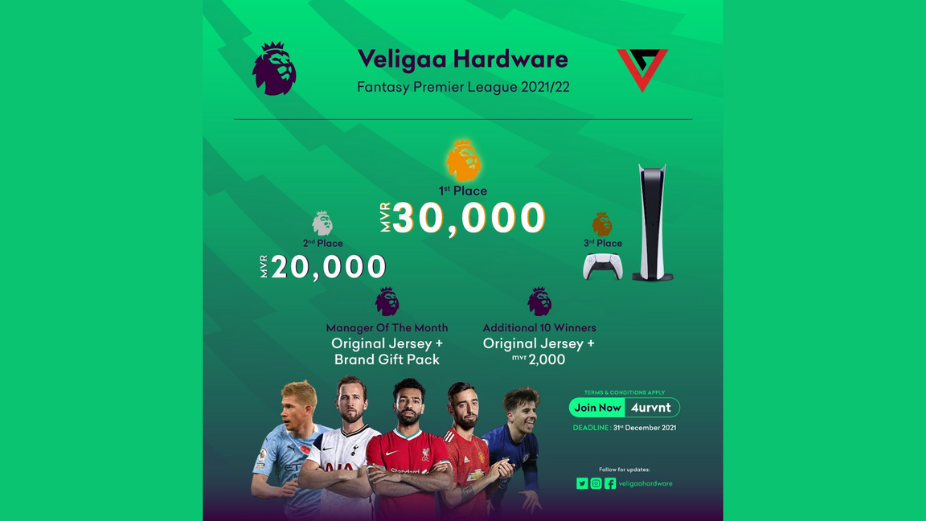 Veligaa Hardware has announced a new Fantasy Premier League with grand winners and exciting monthly gifts.
The deadline to participate is 31st December 2021, giving those who are interested ample time to participate in the league. Veligaa Hardware Fantasy League 2021/22 is open to all Maldivians and work permit holders in the Maldives. Participants can join the league using the code 4urvnt. 
A Manager of the Month will be selected at the end of each month and the winner will be awarded an original jersey along with a gift hamper. Three grand prize winners will be selected at the end of the league. The 1st place winner will be awarded a cash prize of MVR30,000. The 2nd place winner will receive a cash prize of MVR20,000 and the 3rd place winner will receive a PlayStation 5. Additional 10 winners will be selected and will receive an original jersey with a cash prize of MVR2,000.
Winners will be announced on all Veligaa Hardware official social media accounts as well as the official Veligaa FPL Viber community.
Fantasy Premier League has been a customer favorite for years. This year Veligaa Hardware has decided to create their own Fantasy Premier League for Maldivians and work permit holders to enjoy together.
Veligaa Hardware hopes to continue the engagement they have with their customers throughout the year. With new and exciting promotions, Veligaa Hardware has held up the promise of improving its customer experience in 2021.