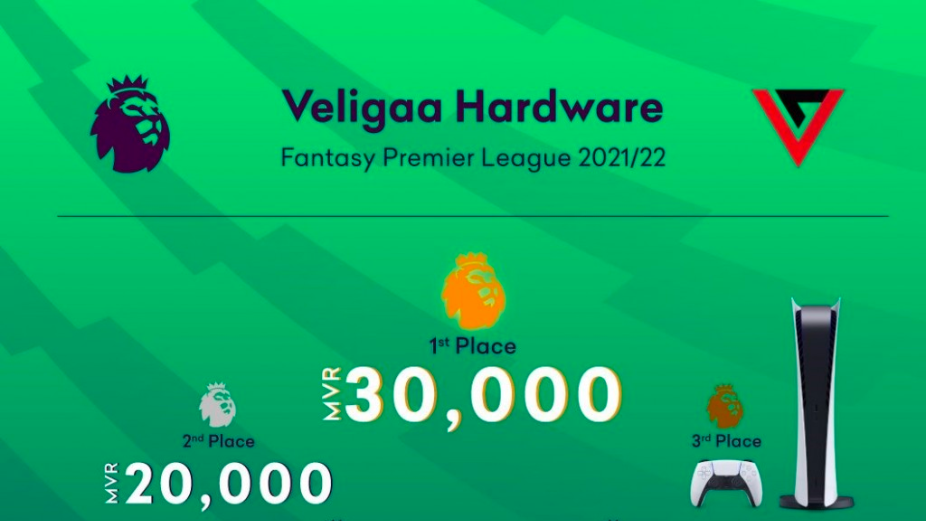 Veligaa Hardware has selected and presented awards for the Fantasy Premier League, held in tandem with this year's Premier League.
Veligaa held the Fantasy League as both a public league and a league between Veligaa employees. Both leagues were held with major awards.
A Manager of the Month was selected at the end of each month and the winner was awarded an original jersey along with a gift hamper. Three grand prize winners were selected at the end of the league. The 1st place winner, Lizan Ahmed, was awarded a cash prize of MVR30,000. The 2nd place winner, Abdulla Waheed received a cash prize of MVR20,000, while the 3rd place winner, Ali Nahid received a PlayStation 5. An additional 10 lucky winners received an original jersey with a cash prize of MVR2,000. 
A PlayStation 5 was given as the first place price in the league between Veligaa employees. A laptop was submitted for the second place, while a coffee machine was given for the third place. Mohamed Hazim finished 1st in the league. Hassan Muaz finished second, while Ameem finished third.
Fantasy Premier League has been a customer favourite for years. Veligaa Hardware had decided to create their own Fantasy Premier League for Maldivians and work permit holders to enjoy together. As such, over 1200 participants joined the Veligaa Hardware Fantasy Premier League according to the company.