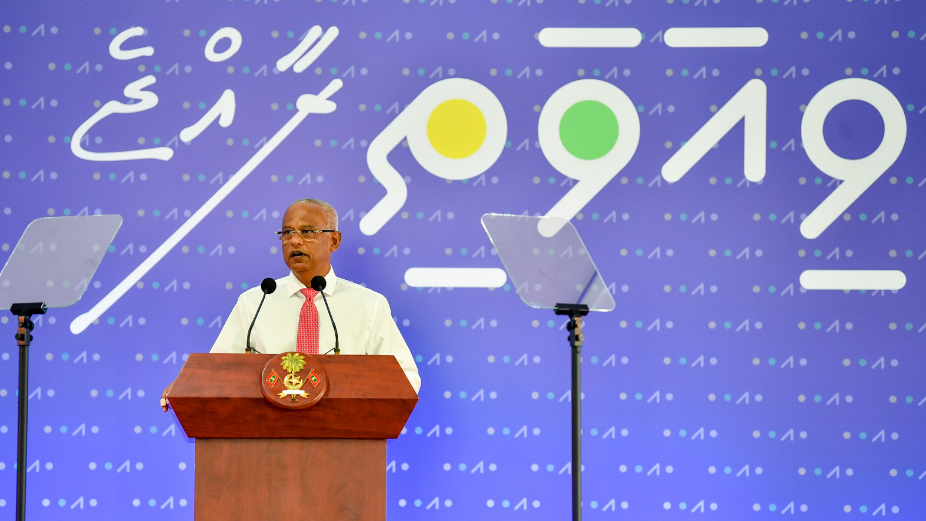 President Ibrahim Mohamed Solih today inaugurated this year's Viavathi Raajje Conference at AA. Ukulhas with 174 participants.
President Solih reaffirmed his commitment to factor in and consider public concerns in all developmental aspects, revealing that last year he discussed such concerns in 77 meetings with local council representatives. He made the statement in his opening remarks at the opening ceremony of the Viavathi Raajje Conference.
Viavathi Raajje Conference was initiated by President Solih.
The two-day conference would feature four sessions with presentations and discussions on various topics, including fiscal and legal autonomy, formulating land-use plans, the role of WDCs, crime prevention, social welfare, and climate resilience. It would also allow the council and WDC representatives to present their concerns to the President and discuss potential solutions.
Delving into the details of the meetings, President Solih stated that island councils across the country were facing similar issues: financial constraints that curtail income for developmental plans, challenges to formulating land-use plans, and a lack of adequate resources for Women's Development Committees (WDCs). The President said that the conference's main objective was for policymakers, the local council, and WDC representatives to gather and deliberate on ways to resolve these issues.
President Solih spearheaded the administration's efforts to ensure local councils' fiscal and legal autonomy and ratified the Decentralisation Act's eighth amendment in December 2019. Reiterating his commitment to decentralised development, the President stated that all the administration's policies centred around this concept. The President said that by prioritising decentralisation, each island would reap the benefits of developmental progress while simultaneously easing the burden on Malé City. He added that the councils play a pivotal role in implementing the policies.
In his remarks, the President also identified drug-related issues, gang crimes, and climate change as imminent challenges facing the country today. He said that it was essential to discuss these issues in depth at the Viavathi Raajje conference, as resolving them would yield faster results in achieving progress.
President Solih reiterated his commitment to equitable development across the country and to prioritising the public's needs. He also expressed gratitude to the residents of Ukulhas Island, adding that it was a privilege to host the conference on the island.