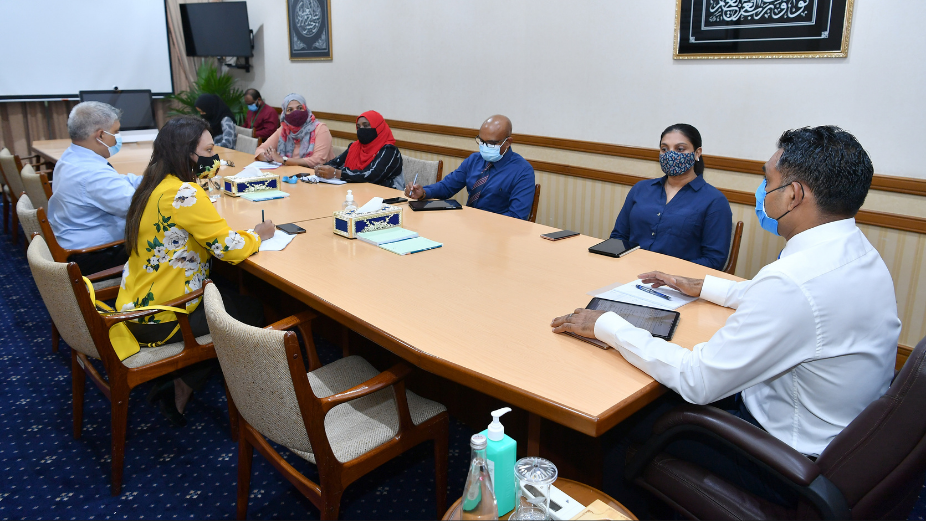 Vice President Faisal Naseem has held discussions with relevant stakeholders on improving the systematic efficiency and ease of access to speech, occupational and other specialised therapy services. The meeting was held at the President's Office this morning.
The Vice President had yesterday visited the Speech Therapy Department at Indira Gandhi Memorial Hospital (IGMH) and reviewed the facilities and services available. Officials from the department had also briefed Vice President Faisal Naseem on several challenges faced in providing the best services to the public. They highlighted the low number of speech therapists in contrast to patients.
Speaking at today's follow-up meeting, Vice President Faisal Naseem stated that most specialised therapy services are only available within the Malé region and advised the urgent expansion of these services to the atolls. Citing the low number of trained individuals available in areas such as speech therapy, he underscored the need to work closely with the Maldives National University (MNU) in order to provide the appropriate educational qualifications to Maldivians and build a strong local workforce in this area. The Vice President also discussed avenues for the improvement of early detection and intervention procedures currently available within therapy services.
Vice President Faisal Naseem was joined at the meeting by the Minister of Education, Dr. Aishath Ali, and Minister at the President's Office, Ahmed Sameer. The meeting was also attended by Senior Officials from the Ministry of Gender, Family and Social Services, MNU and IGMH.