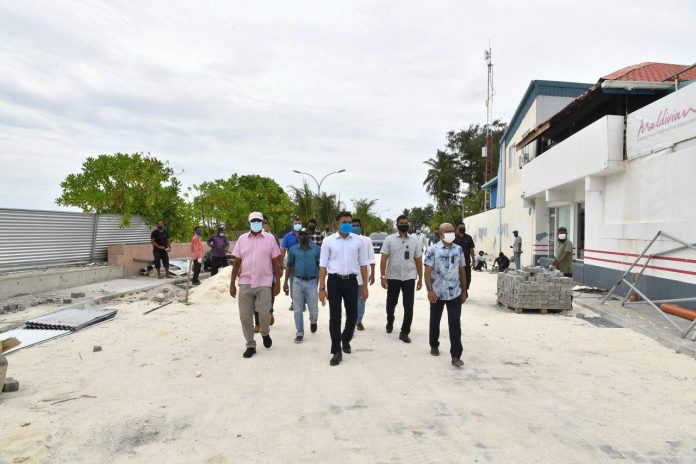 Vice President Faisal Naseem has this afternoon visited the West Park area and inspected the ongoing project to improve public transport services in Malé City. During the visit, the Vice President inquired about the work being done to develop bus stops and other services required for the advancement of public transport in the city.
As part of the project, new bus stops are being built near Indira Gandhi Memorial Hospital (IGMH), West Park, Hiriya School and Thaajuddin School. During the visit, the Vice President inquired about the progress of the project with officials from Maldives Ports Limited (MPL) and Malé City Council—the two institutions involved in the project.
Querying the officials about parking options in the area, the Vice President also asked about ways to ensure the project alleviates traffic congestion and other difficulties faced by the residents. He also discussed plans to further develop bus services in Malé City.
The Vice President was accompanied on the visit by Shahid Ali, CEO of MPL; Shamau Shareef, Deputy Mayor of Malé City; Moosa Ali Manik, Managing Director of Road Development Corporation; and Ahmed Naseem and Ahmed Sameer, Ministers at the President's Office.