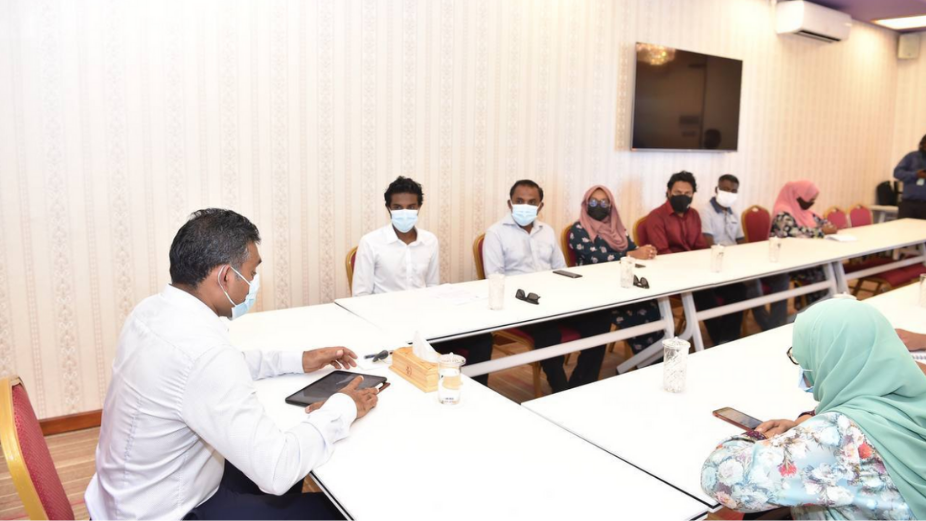 Vice President Faisal Naseem has today visited Guraidhoo Island of Kaafu Atoll and held discussions with the members of the Island Council. He also toured several locations on the island and met with the administrators of key facilities to inquire about any pressing concerns and the latest updates.
The Vice President was warmly welcomed and received by the residents of Guraidhoo Island upon his arrival this afternoon. He first visited the Island's 'Home for People with Special Needs', touring the facility and holding discussions with the heads of the establishment. Their discussions centred on the most pressing concerns and difficulties faced, and plans for the progress of the facility. The Vice President acknowledged the diligence and hard work of the staff, offering his praise and encouragement to continue their excellent work.
The Vice President also met with the members of the Kaafu Guraidhoo Island Council. During the meeting, Council Members noted the swift progress for government developmental projects on the island. They extended their sincere gratitude for initiating a government project to reclaim 15 hectares of land to address land scarcity on the island. Some of the concerns raised by the council during the meeting included the shortage of therapists at the Home for People with Special Needs, and major upgrade work for the Island Health Centre. The Vice President assured that all concerns raised would be passed to relevant government institutions and would be addressed accordingly.
Vice President Faisal Naseem also visited the Kaafu Guraidhoo Health Centre and the site for a new land reclamation project during his visit to the island.
The Vice President was joined on his trip today by the Minister of Gender, Family and Social Service, Aishath Mohamed Didi, the Chief Executive Officer of Maldives Transport and Contracting Company (MTCC), Adam Azim, and several high ranking officials from the Ministry of Health and State Electric Company Limited (STELCO).