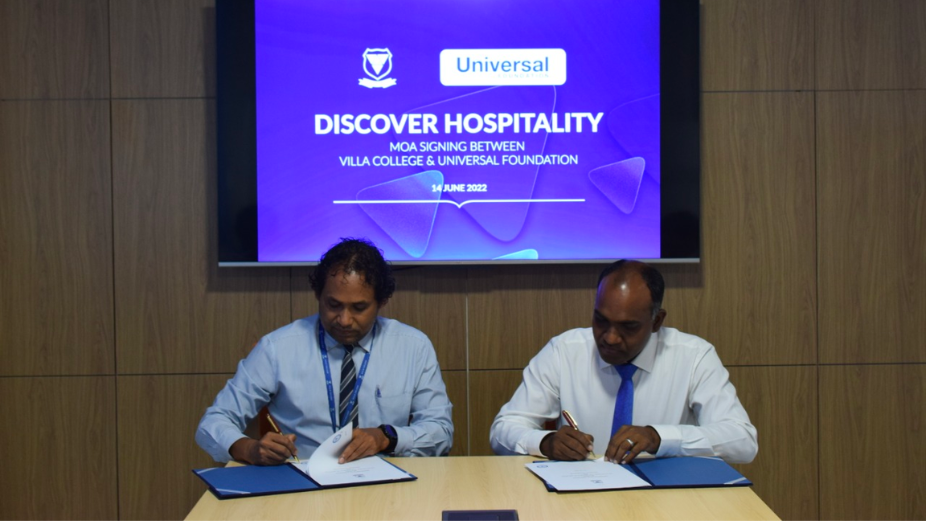 Villa College and Universal Foundation have signed an MoU to conduct the "Discover Hospitality" program.
The program has been conducted since 2017 as part of the Universal Foundation's social responsibility. The main objective of the programme is to provide employment opportunities for Maldivian youth interested in working in the tourism sector after training them.
The program is resuming in 2022 after a two-year break due to the COVID-19 pandemic. As this year marks the 50th anniversary of tourism in the Maldives, the Universal Foundation aims to train 50 students under the Discover Hospitality program this year.
The program will be conducted as a collaboration between Universal Foundation and Villa College. The Universal Foundation has chosen Villa College to conduct the program, as Villa College is renowned as one of the most qualified higher education institutions in the Maldives to conduct such a program.
The Discover Hospitality Program first began in 2017. So far, three batches of participants have completed the course and obtained certificates.
• 15 participants completed the course in 2017.
• 22 participants completed the course in 2018.
• 28 participants completed the course in 2019.
• 50 participants will take part in the course in 2022.
Applications for the 4th batch course, which begins in September 2022, opened on June 14, 2022. The last date for submitting applications is August 11, 2022. The completed application form can also be submitted to Villa College or the Head Office reception of Universal Enterprises. Applications can also be sent online to Villa College.
While classes will be held at Villa College, training will be conducted at Universal resorts. During the course period, the resort will provide MVR 3,000 per month as allowance to each participant.
The model has proven very successful so far. Approximately over 85 percent of the students who completed the course are currently employed in the tourism sector.