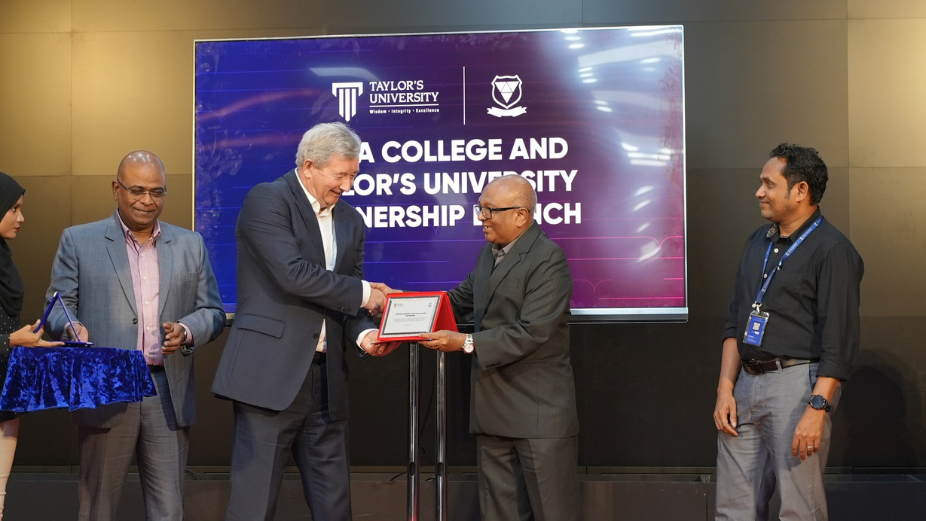 Villa College has officially launched a partnership with Malaysia's Taylor's University at a special ceremony held at the Villa College QI campus hall.
Mohamed Aslam, Minister of National Planning, Housing and Infrastructure was the Chief Guest of the night.
Followed by the launching of the partnership between the universities, new programmes offered through this partnership were also launched. These programmes include, Bachelor of International Hospitality Management (Honours), Master's in International Hospitality Management, Bachelors of Culinary Management (Honours), Bachelor of Mass Communication (Honors) and Master's in Communication.
Among the special invitees were, Professor Michael John Driscoll – Vice Chancellor & President, Taylor's University, Professor Pradeep Nair – Deputy Vice-Chancellor & Chief Academic Officer, Professor Neethiahnanthan Ari Ragavan – Executive Dean, Faculty of Social Sciences and Leisure Management and Pierre Louis Genier, Pro-Vice Chancellor, Taylor's Digital & TNE.
As the country's first private college, Villa College transformed private higher education in the nation by placing itself on an equal footing with public higher education. Villa College is now celebrating its 15th year with more than 5000 students, 16000+ alumni, and 200+ staff members.
Since the inception in 1969, Taylor's University has gained significant recognition as a leading private education institution. Taylor's University has been named the number one private university in Southeast Asia by the QS World University Rankings for third year in a row. Ranking at #284, the institution broke into the top 1% of universities in the world.