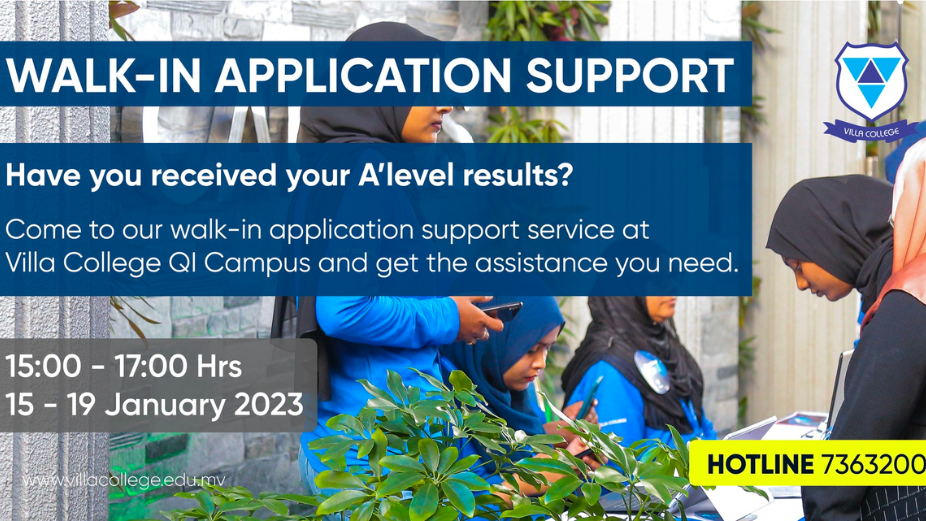 Villa College has announced the launch of a walk-in application support service for students who have completed A'Levels. The service, which will be held at the Villa College QI Campus, will commence on Sunday, January 15th and run through Thursday, January 19th, from 3pm to 5pm daily.
This initiative is aimed at providing a convenient and accessible resource for students who may be facing challenges with their application process. The support team, comprising highly qualified and experienced educators, will be on hand to assist with any application-related issues, including help with filling out forms and providing on-the-spot offer letters. This is a valuable opportunity for students, and we encourage anyone who may require assistance to take advantage of this service during this week.
For more information, interested parties may contact the hotline at +960 7363200.
Villa College is a leading higher education institution in the Maldives, offering a wide range of undergraduate and graduate programs in various fields such as business, engineering, IT, and more. The college is committed to providing a high-quality education to its students, with a focus on hands-on learning and practical experience. The campus is equipped with state-of-the-art facilities and resources, and the faculty is composed of highly qualified and experienced educators.