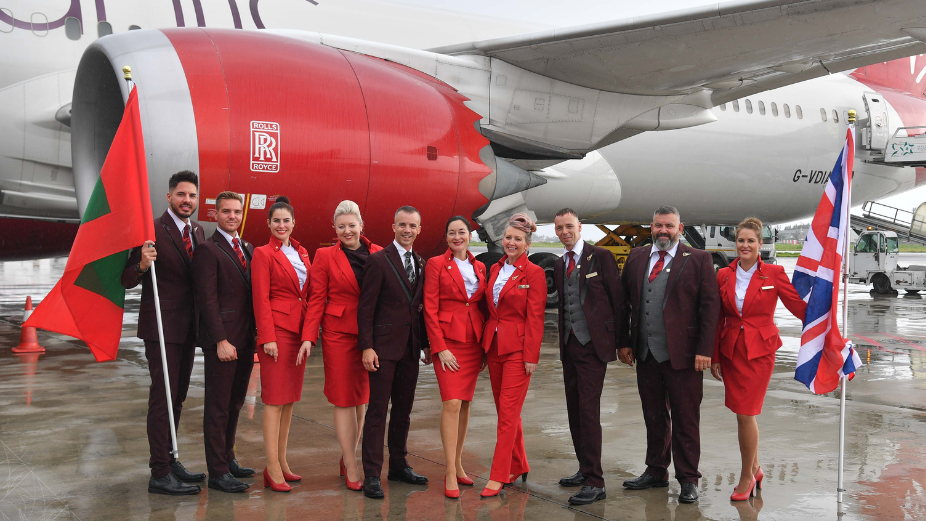 Virgin Atlantic has commenced flights connecting London Heathrow to the Maldives. The inaugural flight touched down at VIA this morning at 07:40 am local time, marking the beginning of a new chapter in air travel between the United Kingdom and the Maldives. The arrival of the Virgin Atlantic aircraft was welcomed by a warm traditional Maldivian Bodeberu, along with captivating cultural dance performances.
The new service operates thrice a week on the airline's Boeing 787 Dreamliner, boasting 31 Upper Class, 35 Premium, and 192 Economy Delight, Classic, and Light seats.
For those customers looking to treat themselves, Virgin Atlantic's Upper Class offers fully flat beds and an onboard bar to enjoy dinner and an opportunity to network with travel companions. Premium customers can relax in their luxurious leather armchair with its 38" seat pitch and enjoy priority boarding and welcome drinks. No matter what cabin customers choose to fly, everyone can enjoy complimentary food and beverages, over 300 hours of entertainment, and a warm welcome from Virgin Atlantic's iconic cabin crew.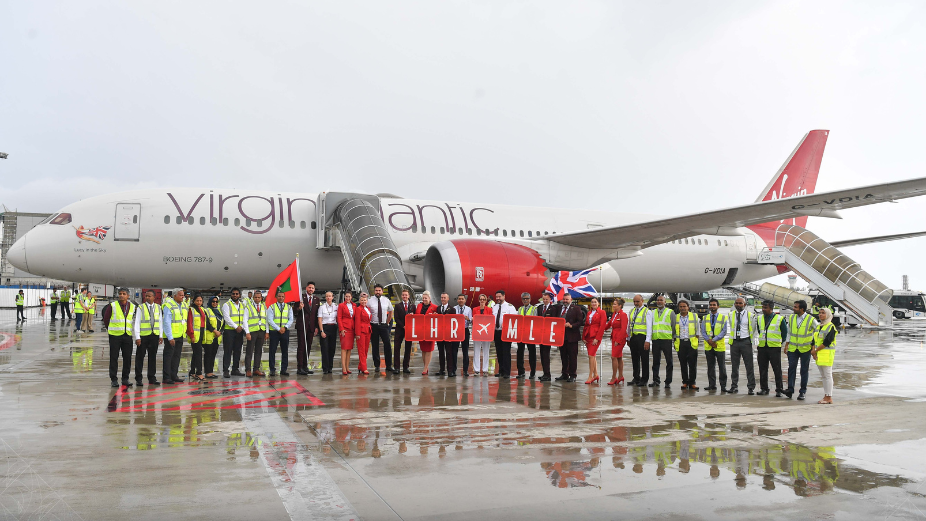 Mr Mahjoob Shujau, CEO & Managing Director of MACL, said, "As the operator of Velana International Airport, we are excited to welcome the prestigious and customer-centric airline, Virgin Atlantic. This inaugural flight marks a significant milestone in enhancing air travel connections between the United Kingdom and the Maldives. We look forward to a prosperous partnership with Virgin Atlantic as we continue elevating our passengers' travel experience."
Juha Jarvinen, Chief Commercial Officer at Virgin Atlantic, commented, "We couldn't be more thrilled to launch our flights between the United Kingdom and the Maldives with our new thrice-weekly service as we expand our growing collection of winter sun destinations. We are proud to be able to offer more opportunities for our customers to experience the Maldives. We are looking forward to welcoming them to this breathtaking and one-of-a-kind destination. The collaboration between MACL and Virgin Atlantic reflects the shared commitment to delivering exceptional travel experiences and fostering stronger air connectivity between the United Kingdom and the Maldives."
Caron Rohsler, British High Commissioner to Maldives, added, "I am delighted Virgin Atlantic has started operating direct flights from London Heathrow to Maldives today. Maldives is a top holiday destination for British tourists. Brits have consistently featured among the top 3 nationalities visiting Maldives for many years. The UK Government has worked with the Government of Maldives for many years on airport safety and aviation security. I look forward to continuing our partnerships in Maldives, especially as the airport expansion progresses. Tourism is an essential pillar of the Maldivian economy, and I hope this milestone today will contribute to continued growth in convenient and comfortable travel between our countries. Visitors are encouraged to read the FCDO's travel advice and to buy travel insurance to enjoy the best possible holiday experience."
The British High Commissioner attended the Virgin Atlantic Inaugural event in the Maldives and senior members of MACL along with senior members of the local agent, Voyages Maldives.