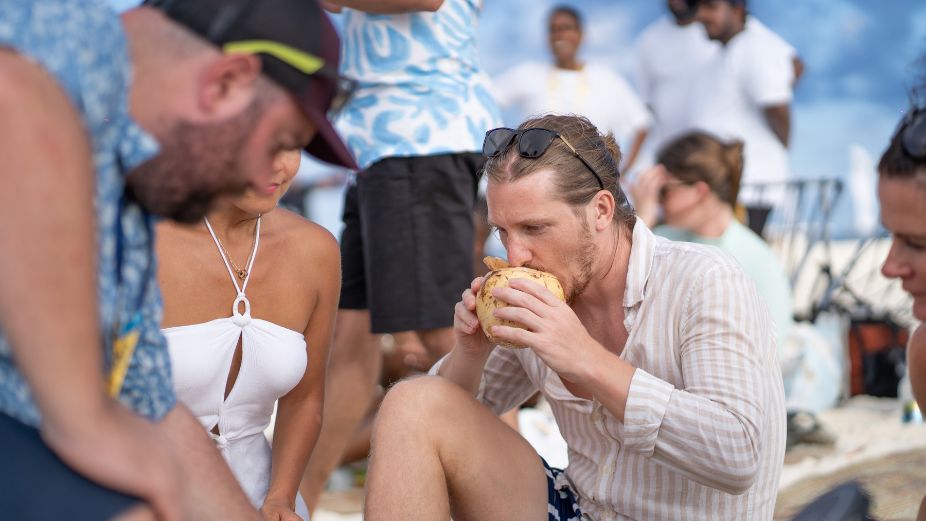 Maldives Marketing & PR Corporation (MMPRC/ Visit Maldives) offered a music and cuisine-filled breakout session titled "From The Sea to the Skillet" at Visit Maldives Storytellers' Conference 2023. Led by MMPRC, the session on Maldivian cuisine and the history of fisheries was one of the three breakout sessions held during the conference. This breakout session, conducted by Maldives Industrial Fisheries Company (MIFCO), allowed participants to discover sustainable methods of fishing and the significance of tuna in Maldivian cuisine.
Upon arrival at the Atoll Villa sandbank, participants were welcomed with the resonating beats of boduberu music. The sounds and the allure of an oasis amidst the crystalline waters set the tone for a lively and engaging session. MIFCO took participants on a culinary journey with an in-depth explanation of the history of fishing in the Maldives, with a highlight on tuna. Participants learned how the method of fishing in the Maldives, pole and line, is an exemplary method of sustainable fishing that could be replicated across the world. Participants also had the opportunity to watch traditional fish-filleting skills and learn about the local techniques that had been passed down through generations.
A culinary journey was not complete without experiencing the unique flavours of the Sunny Side of Life. Participants tried authentic fresh local short eats, paired with falho kandhi and watermelon juice. One of the highlights of this breakout session was the cooking class where participants learned to make some of the most prized Maldivian meals including mashuni and mas fen. Under the guidance of a skilled chef, participants learned about the ingredients and techniques that make Maldivian cuisine so fresh and special.
To take home a piece of this unique experience, participants also received a special culinary-themed gift basket. The session ended with some relaxing time in the turquoise waters surrounding the golden powder-soft sandbank.
The 'From the Sea to the Skillet' session was a unique opportunity to learn about the sustainable fishing practices and local culinary traditions that make Maldivian cuisine so unique, all while enjoying the beautiful scenery and crystal-clear waters of the Maldives. Fully utilising MMPRC's 'Redefining MICE' concept, there had probably never been a more beautiful or serene location for a breakout session!