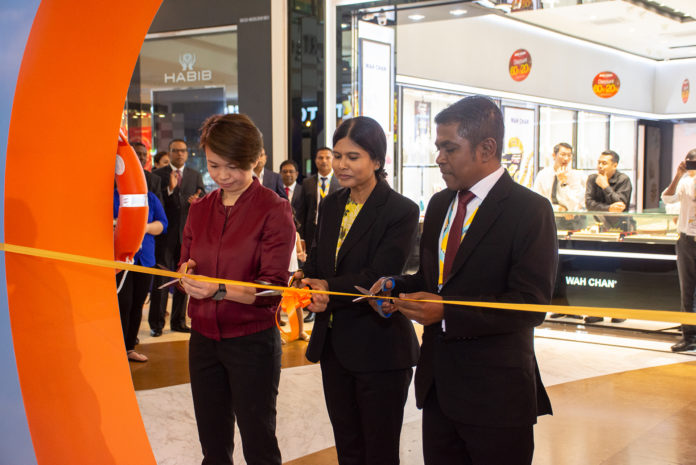 Visit Maldives Travel Expo (VMTE) has kicked off on 5th July in Malaysia. 
The first of its kind event organized by the Maldives Marketing & PR Corporation (MMPRC) will be held in association with AirAsia from 5th to 7th July 2019 at the ground floor of IOI Mall-Putrajaya.
AirAsia is offering 20% discount on all flights to Maldives for bookings made during the travel fair. The discount is applicable for travel period of 5 July 2019 to 21 Nov 2019.
17 participants across the Maldives tourism industry representing top tour operators, travel agents, resorts and guesthouses of Maldives are exhibiting at the event.
Targeting Malaysian Travel trade and consumers, VMTE is a step forward in the effort to market Maldives as a top destination for travelers.
The exhibition will allow travel and trade industry partners to meet, establish contacts and negotiate offers while visitors will get access to holiday packages to Maldives.
The event kicked off with a ribbon cutting ceremony by the Managing Director of MMPRC, Mr. Thoyyib Mohamed and the Regional Head-Corporate of AirAsia, Ms Amanda Woo, along with the Maldivian Ambassador to Malaysia, Her Excellency, Ms Visam Ali. This was followed by a press briefing.
Whilst the first day of the event is dedicated to the travel trade from 1130-1800hrs by invitation, the second and third days will be open for consumers from 1000-2100hrs, targeting over 150,000-200-000 shoppers who attend the Mall daily.
The whole arena will showcase the beauty and culture of Maldives and visitors will have a chance to taste authentic Maldivian flavors at the Visit Maldives stand.
Other highlights of activities include experiencing Maldives through virtual reality, with imagery of colorful underwater flora and fauna, swim with whale sharks and the serene sunny beaches of the Maldives.
Moreover, a raffle draw will select winners for free holidays sponsored by Furaveri Island Resort & Spa, Paradise Island Resort & Spa and Plumeria Maldives along with free air ticket, sponsored by AirAsia.
VMTE is a new avenue creating a great platform to open business opportunities for bringing the Malaysian and South East Asian markets to the Maldives, which is a new area of focus for the Maldives tourism.