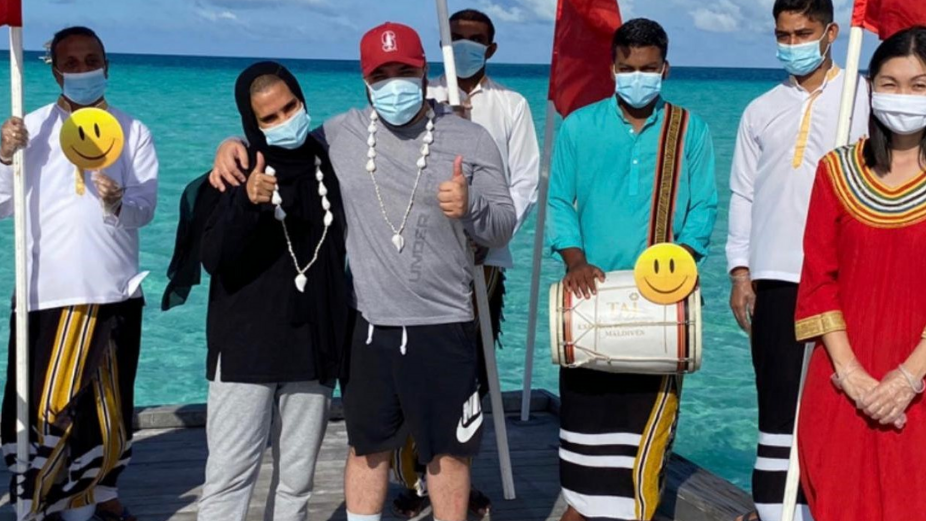 Arab social influencers, Khalid Al-Ameri and his wife Salama Mohamed have arrived in Maldives today at Taj Exotica Resort & Spa for a much-needed break.
The social media celebrity recently took to Instagram and posted their arrival in Maldives, he said: "It's time for a break." Khalid has posted videos of their warm welcome at the resort on his Instagram story.
Khalid Al Ameri is one of the most famous content creators on social media from the United Arab Emirates. Khalid and his wife Salama Mohamed run a social media empire with more than 3.5 million followers.
Khalid became famous on social media due to his consistent delivery of content. When he started his social media venture he used to post videos on a daily basis. His hard work has paid off, and – together with his wife – he has made it the top.
Taj Exotica Resort & Spa, Maldives, is an exclusive, private and romantic island resort lush with tropical plants and encircled by clear blue waters of one of the largest lagoons of the Maldives.
Taj Group of Hotels redefined its services and hospitality in its two stunning properties: Taj Exotica Resort & Spa, Maldives and Taj Coral Reef Resort & Spa, Maldives ensuring guests to arrive at a safe haven.
Since the reopening of borders, Taj Exotica Resort & Spa has been a hot spot in Maldives for the Middle East holidaymakers. The travelers have expressed their love for their stay at the property with reviews on TripAdvisor as well.
The resort also welcomed world-famous Israeli influencer Nuseir Yassin — better known as Nas Daily last month.