Voting has begun for the Adventures of Maldives 2018 (Dhivehi Aahitha) Video Competition organized by Maldives Marketing and Public Relations Corporation (MMPRC) in association with Redbull. Voting commenced on 1400 hours yesterday (2 January 2019) and will last until 1400 hours on 10 January 2019 (Maldives time/GMT +5). The 27 videos submitted to the competition this year can be found as a playlist titled Adventures of Maldives Video Competition listed in the Videos section of the official Facebook Page of Visit Maldives. Voting can be done by reacting "Like," "Love," or "Wow," to your favorite video.
The videos with the highest number of positive reactions (Like, Love, Wow) will be judged by a panel who will select the winner and the top 10 videos of the competition. The winner of the competition will receive the prize money of MVR 100,000. The first runner-up will receive MVR 20,000 in prize money and the second runner-up will receive a GoPro Hero 5. The top 10 videos selected after judging will also be featured on the official YouTube channel of MMPRC (Visit Maldives) and promoted on other social and online media channels of MMPRC (Visit Maldives) as well as International Travel and Trade.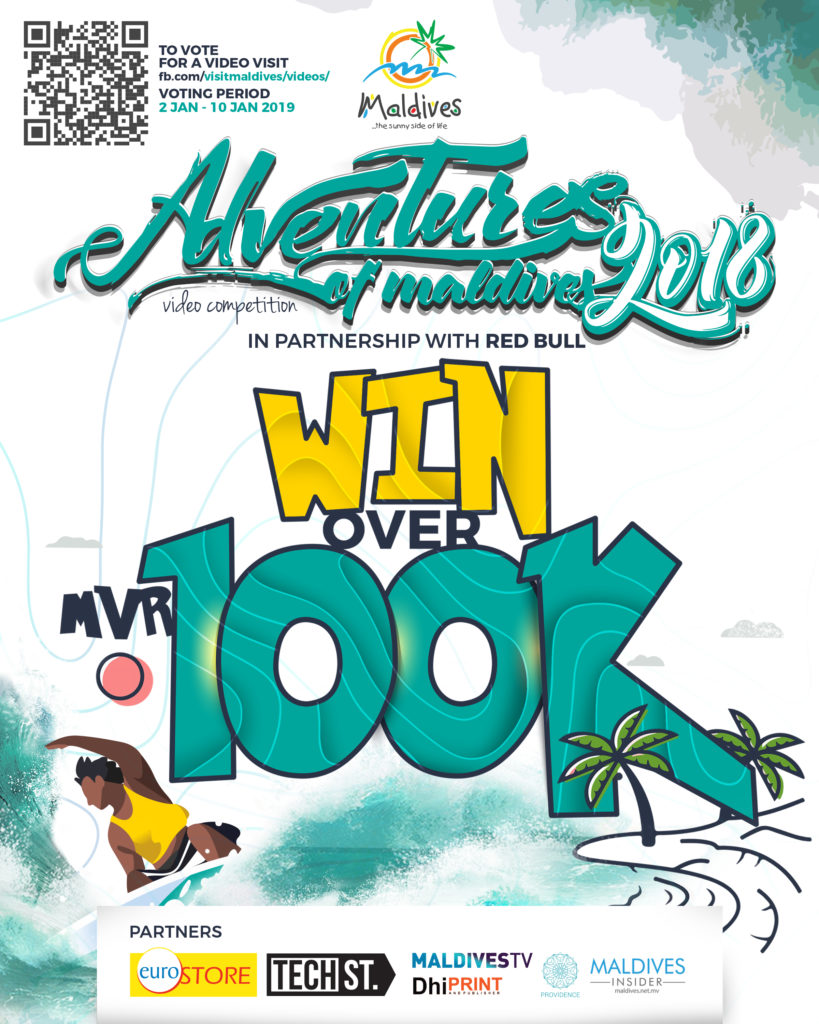 The Adventures of Maldives (Dhivehi Aahitha) aims to showcase personally shot video clips of locals and tourists engaging in adventurous activities in Maldives. This will have a positive impact on promotional value to the Maldives as a tourist destination itself. This co-promotional marketing activity was initiated in the year 2017. Adventures of Maldives has been defined as conventional adventure related activities in the Maldives such as scuba diving, island excursions, festivals, free diving, surfing, snorkeling, watersports, etc. and also as unconventional adventure related activities
in the Maldives.