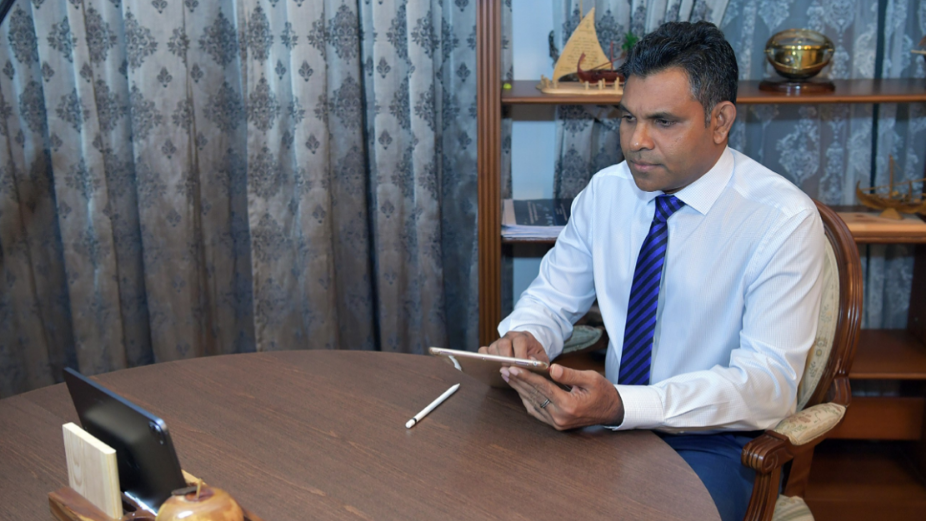 Vice President holds discussions with Fuvahmulah City reps, discusses recent obstacles to development
Vice President Faisal Naseem has, this afternoon, held virtual discussions with authorities representing several institutes of Fuvahmulah City. The discussions, held in two sessions, centred on the obstacles to development projects within the city, with a particular focus on the road development project.
The first session included in-depth analyses towards a solution to enable water drainage through the ongoing road development project in order to address issues of flooding within the city. Representatives from Fuvahmulah City made several requests, including enhancing the existing stormwater drainage system by connecting it to the undeveloped roads. They further noted the importance of removing the duct pipes under the drainage system slabs and extension of the drainage culverts.
Following the discussions regarding development projects, the Vice President and representatives from Fuvahmulah City addressed the ongoing Covid-19 pandemic. The representatives shared concerns regarding the efficacy of the precautionary measures in place to curb the spread of the virus and barriers hindering efficient enforcement of those measures. The discussions also focussed on challenges at Fuvahmulah Hospital and difficulties faced during waste disposal.
The Vice President was joined at the meeting by representatives from the Ministry of National Planning, Housing and Infrastructure; Maldives Transport and Contracting Company (MTCC); and Parliament Members representing Fuvahmulah City. The Mayor and Council Members of Fuvahmulah City Council, among other representatives from the city, were also present at the discussions.