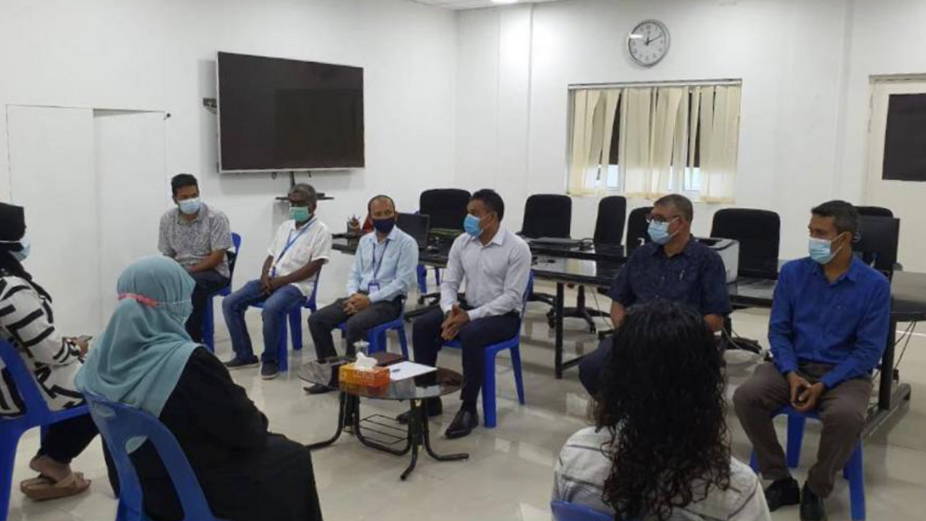 Vice President Faisal Naseem has met the newly-elected councillors of Fuvahmulah City, and several stakeholders from the city during an unofficial visit to the island. The Vice President departed to Fuvahmulah City on July 16, 2021.
During the meeting, Vice President Faisal Naseem and the councillors discussed the development projects planned for Fuvahmulah City. The councillors had shared immediate challenges they were facing in going forth with some projects and conferred some of the concerns raised by the residents. The Vice President had assured that he would raise the concerns with the relevant government authorities.
The Vice President also visited the Fuvahmulah Hospital, where he toured the facilities, including the location for a new speech therapy room and the area designated for the construction of the new hospital building. He also met with senior members of the management and discussed several pertinent issues such as the status of Covid-19 cases and prevention in the city.
During his stay, Vice President Faisal Naseem further met with the senior management of Fenaka Corporation Limited. They held discussions regarding the water and sewerage systems of the city. The Vice President advised the management of Fenaka on approaches to address the difficulties they had shared during the discussions. The Vice President is scheduled to hold meetings with the Fuvahmulah Women's Development Committee (WDC) and the senior management of Fuvahmulah school tonight.
Vice President Faisal Naseem would conclude his trip and return to Malé City on July 25, 2021.