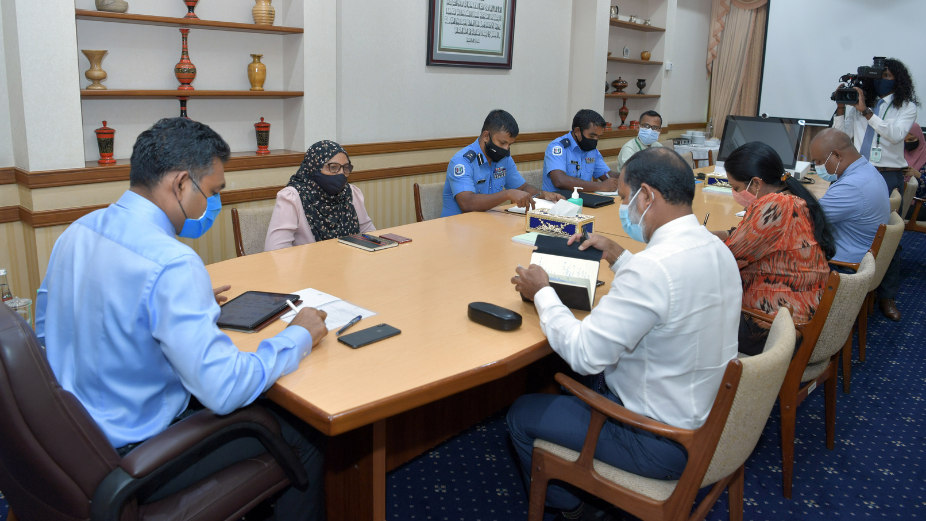 Vice President Faisal Naseem has held extensive discussions on Thursday, proposing solutions that would improve rehabilitation services provided to detainees who are victims of narcotics abuse. The aim of the discussion, held at the President's Office, was to find ways to address the major challenges presently confronting this system.
Speaking at the meeting, the Vice President said that it is of paramount importance to rehabilitate victims of narcotics abuse, especially the youth, and reintegrate them as responsible members of society. Continuing in this vein, he highlighted several issues within the system and proposed solutions that would enable narcotics abuse detainees to swiftly receive rehabilitation and reintegration services. He further spoke on addressing issues raised with regard to the temporary 'Drug Offenders Remand Centre' located at Gulheefalhu, to maximise the speed and efficiency of treatments.
The Vice President also inquired on the latest progress reports for 'Drug Offenders Remand Centre' budgeted for the year 2021. He emphasised that, upon becoming operational next year, the Centre would provide social reintegration and aftercare services in addition to rehabilitation. He reiterated that the Centre would be able to provide comprehensive rehabilitation and reintegration services so that victims may be able to return to society as productive individuals. The Government's planned reintegration programs include offering employment and training opportunities from select state organisations to support patients to return to a dignified life.
Vice President Faisal Naseem was joined at the meeting by the Minister of Home Affairs, Imran Abdulla, the Minister of Gender, Family and Social Services, Aishath Mohamed Didi, Undersecretary at the President's Office, Dr Abdul Malik and the Chairman of the National Drug Agency Board, Hassan Hameed. Superior Officers from the Maldives Police Service and senior officials from the Ministry of Gender, Family and Social Services also attended the meeting.