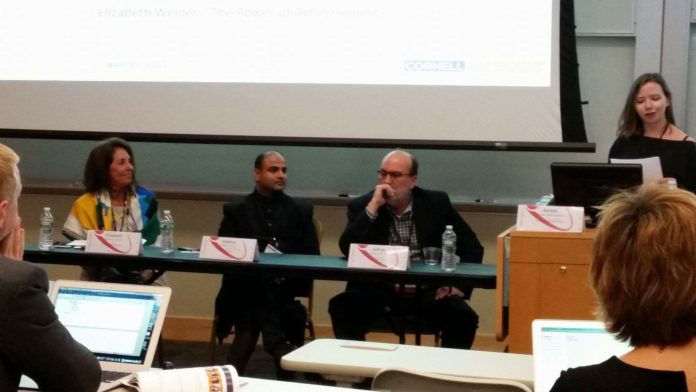 Vaibhav Garg – Cluster Director of Talent & Culture – AccorHotels, Maldives has been representing Maldives and his respective organizations at Cornell University since 2012 while showcasing his research case studies and new trends in the area of hospitality, hotel operations, human resources and service excellence. This year, during the Cornell Symposium: Hospitality, Health & Design (October 9 – 11, Ithaca, New York) with over 90 speakers, and 4 high profile keynote panels on hospitality, healthcare, senior living, and design and with over 200 delegates, Vaibhav shared his research paper on the subject "Wellness & Health – new definition of luxury and lifestyle" with global industry and academy leaders, executives, top researchers, and fellow participants.
"There is a paradigm shift in the definition of luxury and modern lifestyle as the next generation starts to come into its own. Aspirations and desires around a wellness lifestyle (or perceived wellness lifestyle i.e. healthy selfies) are becoming indicators of luxury and a life well lived. My presentation at Cornell University took a look at Gen Z trends as well as global market trends in health + wellness and its implications on the hospitality industry. Wellness at AccorHotels and other industry case studies were also showcased during this event", briefed Vaibhav.
In his presentation remarks, Vaibhav Garg emphasized on rising health related societal concerns linked to today's modernized lifestyle of convenience eating, increase in workplace stress, depression and sedentary employment have alerted individuals, businesses, and regulations to the importance of promoting positive wellness awareness, heath maintenance and fitness resources – a shift from solely reactive to a more balanced proactive and preventative lifestyle approach to health care. He also highlighted on the growth across the wellness, healthcare and fitness industry which demonstrates that people are making significant investments into perceived health and wellness solutions.
As his research presentation unfolded, attendees and delegates learned about how today's consumers are very much proactive—and even progressive—in their approach to health and wellness. "Health is Wealth" and more than physical wealth – health bragging is making much bolder statement in our society across the globe. For instance, it used to be that one'd show off a new car, a new designer handbag or perhaps a smart phone. But today "health bragging" has become the only acceptable way to make a statement of how privileged one is. The phenomenon starts with gastronomy and fitness but is actually an all-encompassing lifestyle.
"Fitness has become another arena to compare and contrast personality and lifestyle with others. It's a social topic where people talk about what new classes they're taking or what diet regime they are on", adds Vaibhav.
Wellness & Health, the buzzword of this burgeoning lifestyle trend is definitely being used as a status symbol as people are investing in themselves as a product. To be able to flash an outfit, they want to have the flash body that goes with it and social media plays a big part in communicating with a wider circle of socialites through photos has generated more image consciousness.
People like to feel a bit superior because they feel they're more aware, educated about health & wellness and are prepared to adhere to their discipline. Posting shots of running club or early morning yoga class is worn as a badge of honour. Before, it wasn't cool to talk about the fact on diet but now, people are owning it. However health and wellness consciousness is just not about one exercise though, people are personalizing their health & wellness efforts and doing whatever suits them.
People are also doing the mental arithmetic, once people would buy food for value but they're now thinking, what it's going to cost in weight, rather than just the face dollar value. It's like making an investment in self; one can go into a health food store and come out $200 poorer, but it's a self – realization because there is an evolved mindset that justifies the spend leading a longer, happier, healthier life.
When one spends big on experiences that supposedly are good, there seems to be less guilt than when it is just a physical luxury item. People are realizing they can't look like a celebrity just by buying similar clothes, they need to embody the whole lifestyle to get that glow plus, it's a much more trendy to post about morning farm visit and yoga class on social media, than just a selfie on the couch.
"It was a pleasure and privilege to represent Maldives and AccorHotels at Cornell University, New York, this October 2016 where academicians, fellow industry professionals and practitioners from across a broad spectrum of the wellness, health, hospitality and design industry gathered for an immersive learning experience into the cultural factors and trends transforming the hospitality, health & design in marketplace." concludes Vaibhav Garg.