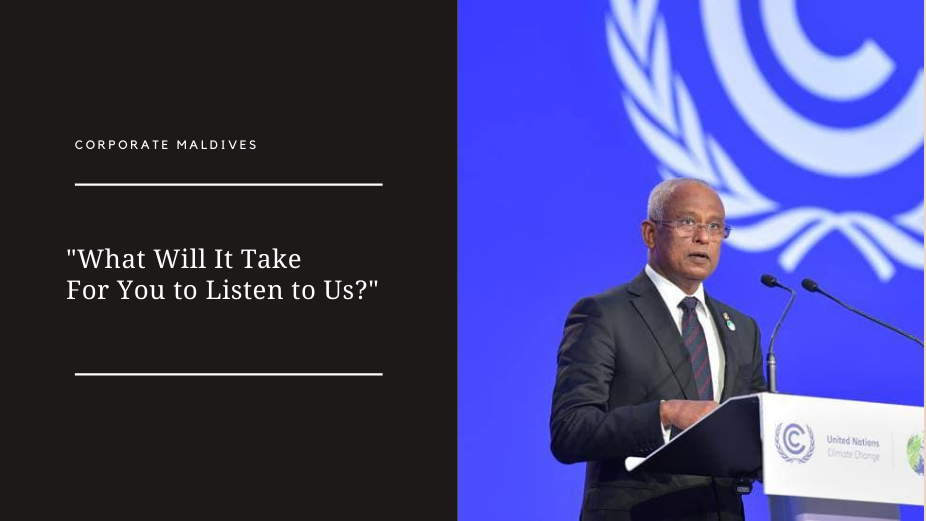 President Ibrahim Mohamed Solih has asked world leaders what it would take for them to listen to the Maldives regarding the harsh realities of climate change. The President made this statement last night while delivering the National Statement at the 2021 United Nations Climate Change Conference of the Parties (COP26) World Leaders Summit. Speaking to world leaders and dignitaries present at the summit, President Solih revealed the grim lived realities of Maldivians already due to climate change.
"Our islands are slowly being inundated by the sea, one by one," he said, citing several trips that he made to different islands of the Maldives over the past month. President Solih stated that all islands he visited had reported severe erosion – only one of numerous dire consequences influencing the daily lives of Maldivians already. "I am here to tell you that my people are already living the steady onset of this reality." He said.
Continuing his statement, President Solih said that in a world where the rise in temperature remains unchecked at 1.5 and jumps to 2 degrees, the Maldives would cease to exist and our fate would remain a dark omen of the grim, and a similar future that awaits the rest of the world. Stating that the Maldives are determined to be a part of global solutions to reverse current trends, the President again reminded world leaders the climate emergency cannot be solved by the actions of individual nations alone. He called on major emitters to step up their efforts to make more ambitious climate commitments and to uphold obligations such as the climate financing pledges made at Paris. He expressed disappointment with the lack of realisation of previously-made assurances, alluding to red tape, required studies and paperwork that render the urgency of the situation ineffective.
"Countries must band together and assist the most climate-vulnerable states to adapt to climate change." President Solih said. He urged world leaders to agree on stringent accountability measures to ensure that commitments on climate finance are met for vulnerable countries like the Maldives to stand a chance of survival.
Ending the National Statement, President Solih reminded world leaders that this may be the last chance that the world has to get ahead of climate change, reiterating that we must not let this opportunity go to waste.
Maldives announced ambitious plans to reach net-zero by 2030, with international support, during the 74th Session of the United Nations General Assembly (UNGA) in 2019. President Solih had called on wealthy nations to help vulnerable nations in capacity building, technology transfers and sourcing finance, remarking on concerning trends in global warming and the rate of sea-level rise. As a founding member of Parley for the Oceans 'Future Island Nation' programme, the Maldives had taken several severe measures to reduce and ultimately eliminate the use of single-use plastics in the country, aiming to become a fully plastic free nation by 2023.
The Maldives' 'Climate Smart Resilient Islands' plans, comprising deliverables in 11 key areas, was formulated as a holistic plan encompassing achievable targets for low-lying small island nations to address the effects of climate change. The plan prioritises building a sustainable society that harmonises with fragile ecosystems while conserving eco-rich areas and rapidly transition to renewable energy sources.