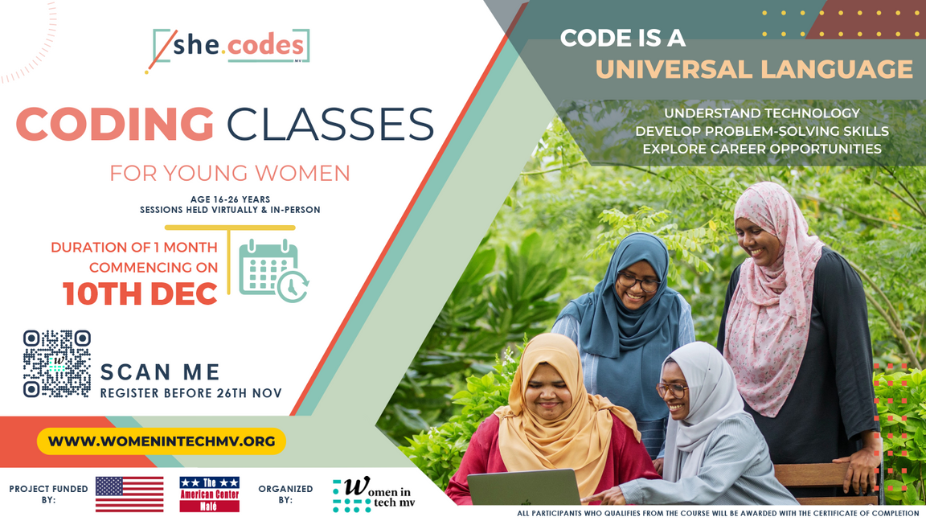 To support women to overcome the challenges they face in education and the technology industry, American Center Malé along with Women in Tech Maldives, is presenting SheCodesMV, coding classes for young women.
Along with the massive expansion of digital transformation, there is a rising demand for professionals with technical abilities to produce digital products. Gender inequality in the tech industry is a serious issue in the world. While there is growing pressure for human capital in the technology industry, women with technical abilities are scarce. The opportunity to develop such skill sets is limited, as are the options to pursue further education.
Research statistics by the Ministry of Education show that barely 45% of Maldivian adolescents reach the higher secondary level of education, and girls are more likely than boys to drop out because of situations such as marriage or motherhood, as well as communal stereotypes connected with such statuses.
The technology industry provides numerous advantages to women, including the flexibility to work remotely, innovative and efficient methods to enhance their job with technological abilities, and the opportunity to develop their enterprises. Several businesses are continuously searching for and looking for employees with programming abilities to tackle everyday challenges and introduce originality to the solutions they provide. With technological expertise, more women would be able to join enterprises and achieve financial stability.
This episode of SheCodesMV focuses on the target group; young women 16 to 26. The program aims to improve necessary digital skills, increase employability and boost the economic empowerment of the participants. The hybrid classes taught by our skilled professionals intend to teach the participants Python programming basics and introduce them to careers in ICT by connecting them with role models.
Those interested are requested to submit the application form before 19th November 2022, on www.womenintechmv.org. The registration link can also be found on American Center Malé and Women in Tech Maldives's social media platforms.