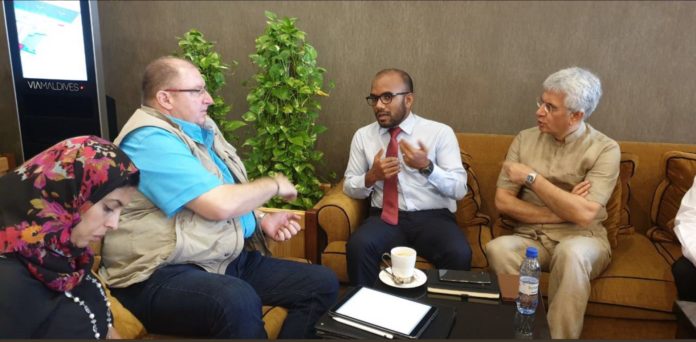 Vice president of The World Bank assigned for South Asia, Mr. Hartwig Schafer has met up with the Finance Minister Mr. Ibrahim Ameer along with MMA's governor Mr. Ahmed Nazeer at the VIP lounge of the Velana International Airport.
In this meeting, Mr. Ameer and the World Bank's Vice President discussed development agendas the Maldivian government is carrying out with precedence. Mr. Hartwig further stated that the World bank would aid in completing any half accomplished or upcoming projects of the government. Mr. Ameer and Mr, Hartwig also conferred on ways to improve the relationship between the Maldives and The World Bank.
2019 will mark 40 years since Maldives became a member of World Bank. During this period of time, 29 projects were funded by the World Bank with 255 million USD. Currently, approximately 82 million dollars are being invested in 4 projects underway in the Maldives.