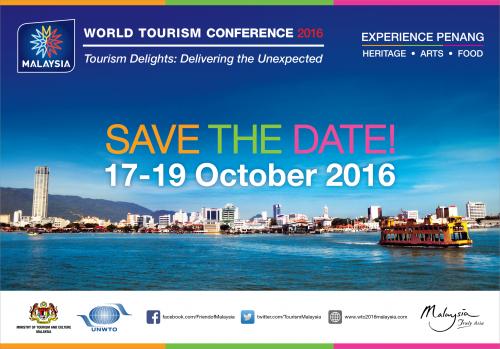 The Ministry of Tourism and Culture Malaysia (MOTAC) is delighted to once again host the World Tourism Conference (WTC). This year's edition will be held in George Town, Penang, from 17 to 19 October 2016, in collaboration with the United Nations World Tourism Organisation (UNWTO). MOTAC has previously hosted the WTC in 2007 (Kuala Lumpur), 2010 (Kota Kinabalu) and 2013 (Melaka).
The event is expected to bring together world leaders in tourism, high-level policy makers, specialists and experts from the public and private sectors, academicians and media representatives to exchange ideas and knowledge as well as share experiences to enhance tourism development further.
Minister of Tourism and Culture Malaysia, YB Dato' Seri Mohamed Nazri Abdul Aziz said, "WTC 2016 promises to be an exciting and engaging tourism forum to learn of success stories, current issues, solutions and best practice case studies."
He added, "This is the fourth time that Malaysia is organising the conference and this year, we are bringing participants to beautiful Georgetown, Penang. It will provide the perfect backdrop for participants to learn from and network with each other in a vibrant and culturally as well as historically rich atmosphere."
Aptly themed "Tourism Delights: Delivering the Unexpected," the conference will focus on ideas and strategies which are geared towards delighting the tourists. It is the first conference of its kind, which is dedicated to the "Tourists First" mantra.
"The theme and topics are specially designed to provide insights that are practical and to share experiences on how to capture the hearts and minds of tourists in this challenging and competitive landscape," Dato' Seri Mohamed Nazri added.
He said, "We look forward to welcoming participants from all over the world to learn from the conference and also to enjoy the experience of being in diverse and multi-cultural Malaysia and UNESCO World Heritage City of Penang."