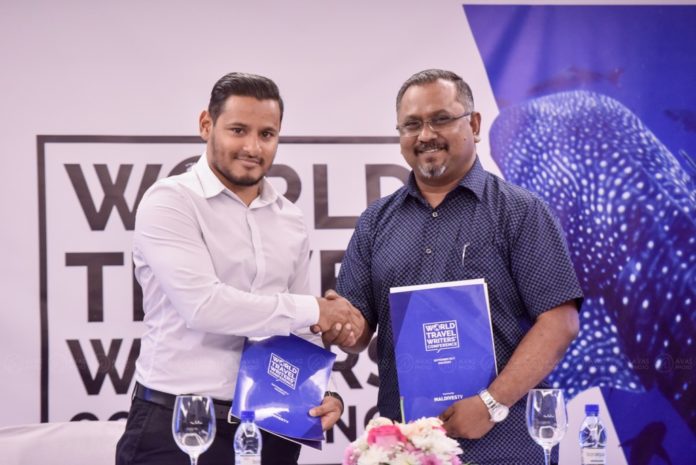 Maldives TV, the first international television channel of the Maldives, has launched the first ever international travel writers' conference in a ceremony held at Hotel Jen last night. This conference is scheduled to be held on 17th and 18th of September at Bandos Island Resort and Kandima Resort.
Speaking about this conference, the Director of Marketing and E-Commerce of PSM, Ibrahim Nasreen stated that distinguished travel writers, bloggers, vloggers, photographers and social media influencers will take part in this 2-day conference.
A statement published by Maldives TV revealed that this conference is held for the world-renowned participants to indulge in the beautiful scenarios of the Maldives through their luxurious stay, by having a taste of the gourmet cuisines and by experiencing the thrilling water sports facilities. Moreover, they expect that through this conference, Maldives will have a huge exposure on an international level which will lead to attract new and repeated travelers from all over the world.
On the launching ceremony held last night, PSM signed with the partners of this conference. Adaaran Resorts Maldives and Coco Collection were among the platinum sponsors, Kandima Maldives and Bandos Maldives among gold sponsors and Maldives Airports Company Limited (MACL) and Hotel Jen among the silver sponsors.
Ministry of Tourism, Ministry of Economic Development, Maldives Customs Service, Maldives Immigration, Maldives Association of Tourism Industry (MATI), Maldives Association of Travel Agents and Tour Operators (MATATO), Liveaboards Association of Maldives (LAM), Maldives Getaways, Maldives Insider and MV Hotels were among the Associate Partners of this conference. Moreover, Qatar Airways signed as the airline partner, VIVA as the event partner and Print Lab as the printing partner respectively.