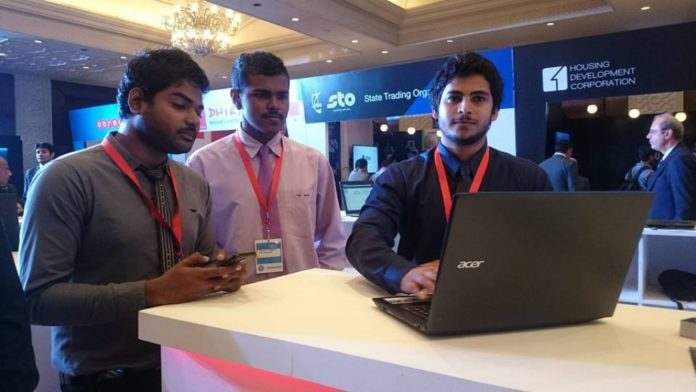 With over 400 participant from both Maldives and India, the Maldives Investment Forum has been quite the success story with many innovations and new fields for investment explored by the country. One such area which is very new and at an early developmental phase is the Software Engineering and App Development; a key area important for modern day e-commerce and businesses.
To cater to this untouched market in the country, 4 Maldivian youth had a small stand that was the center of buzz and many visitors were attracted to. They had showcased software and apps built and engineered by them for the business community. They had received a lot of attention and offers for their work and are one of the small groups that had shined during the MIF.
The government had opened the opportunity to explore previously untapped markets and this group of youngsters took full advantage of it and got a fully sponsored trip to MIF from the government.  They had won this by submitting an app to book GuestHouse, Hospital Booking app and a language based app.
Though no clients were made they had been offered to work and make a travel by an Indian tech developer and hopes to gain and get more opportunities like this from the government in the future for them and for the youth in general as a whole