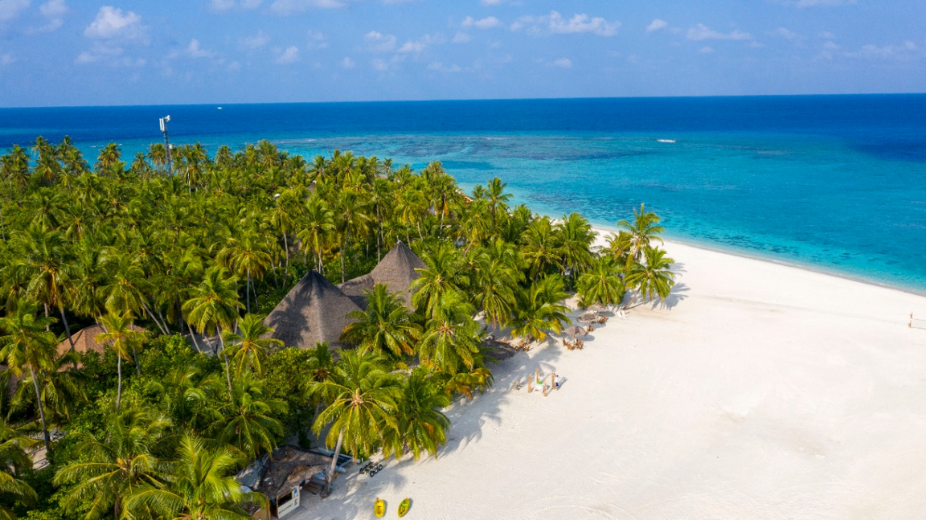 Discover a world of endless opportunities at NAKAI Alimathà Resort, located in the vibrant atoll of Vaavu in the Maldives. NAKAI Alimathà Resort tells a thrilling story of boundless, fun-filled adventure, with luxurious Italian-style villas, delicious food and beverage options to indulge in, and plenty of exciting recreational activities.
Whether you enjoy underwater adventures, playing island sports, or simply relaxing at the spa, Alimathà is the ideal tropical getaway for you and your family. Here's a list of 5 incredible experiences to have at NAKAI Alimathà Resort.
Indulge in Spectacular Seafront Dining
Ready for your tastebuds to be wowed? NAKAI Alimathà Resort has a main restaurant and multiple bars, each located in different parts of the island. The main restaurant, which has recently been renovated to better serve its guests, offers mouthwatering buffet-style dining comprising both Italian and Maldivian cuisines. Immerse yourself in a gastronomical journey led by Alimathà's specialty chefs, as you take in the surrounding views of white and azure.
And if you're in the mood for a drink, why not grab a thirst-quenching Alimathà special at the Horizon Bar? With your cocktail in hand, take a dip in Alimathà's brand new infinity pool, where you'll have the best seat in the house as the sun leaves behind its resplendent glow.
Discover the Underwater Magic of the Maldives
NAKAI Alimathà Resort is located close to a selection of truly unique dive sites in Vaavu atoll. With the help of the resorts' expert dive instructors, guests can discover a fascinating new world lurking beneath the surface.
With a number of famous reefs and channels, this atoll offers a gateway to an entirely different dimension, magical and weightless, filled with flashy marine life and curious biodiversity just waiting to be explored. In fact, most of the dive sites are within protected areas, and some are renowned for being on the list of top dive sites in the world.
Get Competitive at the Sports Courts
Stay fit and have fun, together as a family. At NAKAI Alimathà, guests can engage in a range of sports and fitness activities at the resorts' designated courts, the gym, as well as the water sports center.
The sports on offer include beach volley, bowls, table tennis, futsal, canoeing, darts, windsurfing, and more. After all, playing sports in the idyllic paradise of the Maldives is an experience no sportsman should miss.
Live as a Local and Visit an Inhabited Island
Live as a local for a day and experience true island life! Immerse yourself in authentic Maldivian culture by taking an excursion trip to an inhabited island nearby, easily accessible by boat upon request.
NAKAI Alimathà is close to a large game fishing area, with five fishing islands within easy reach. Fulidhoo Island is the closest of these (about a 30-minute boat ride away), and it is the perfect place for a day trip. During a visit to the fishermen's island, one can admire the rich architecture, stunning craftsmanship, and traditional customs of the Maldivian people.
Rejuvenate Your Senses with a Spa Treatment
When you and your family are wiped out from all the fun and excitement, soothe your sore muscles at the Maadhiga Spa at NAKAI Alimathà.
Here, guests can relax, unwind, and awaken their senses with a variety of massages and spa treatments. The scents of essential oils will immediately calm the soul, allowing guests to rediscover the balance between mind and body.
For more information, visit https://alimatha.nakairesorts.com/en/