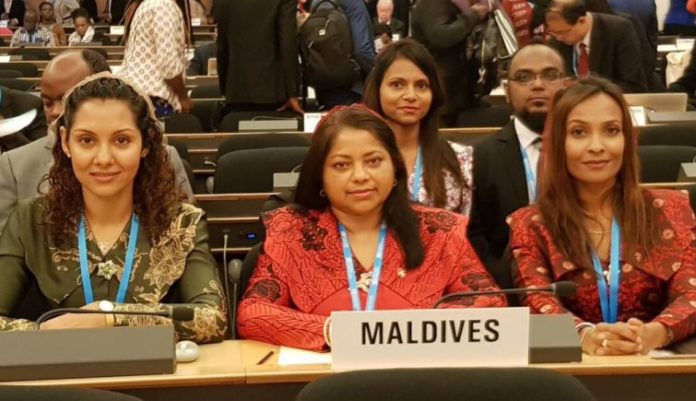 71st Session of the World Health Assembly organized by the World Health Organization has begun on 21st of May in Geneva, Switzerland. 194 Member States of the WHO are taking part in this meeting from 21st to 26th May 2018. Many important decisions regarding global health would be taken during this meeting.
The Maldivian delegation to the World Health Assembly this year is lead by the Permanent Representative to the United Nations Office at Geneva, Dr. Hala Hameed. She is accompanied by high level staff of the Ministry of Health and Permanent Mission of Maldives to the United Nations Office at Geneva. Permanent Secretary of Ministry of Health, Ms. Khadeeja Abdul Samad Abdulla, will represent Maldives as one of the Vice Presidents of the Assembly this year.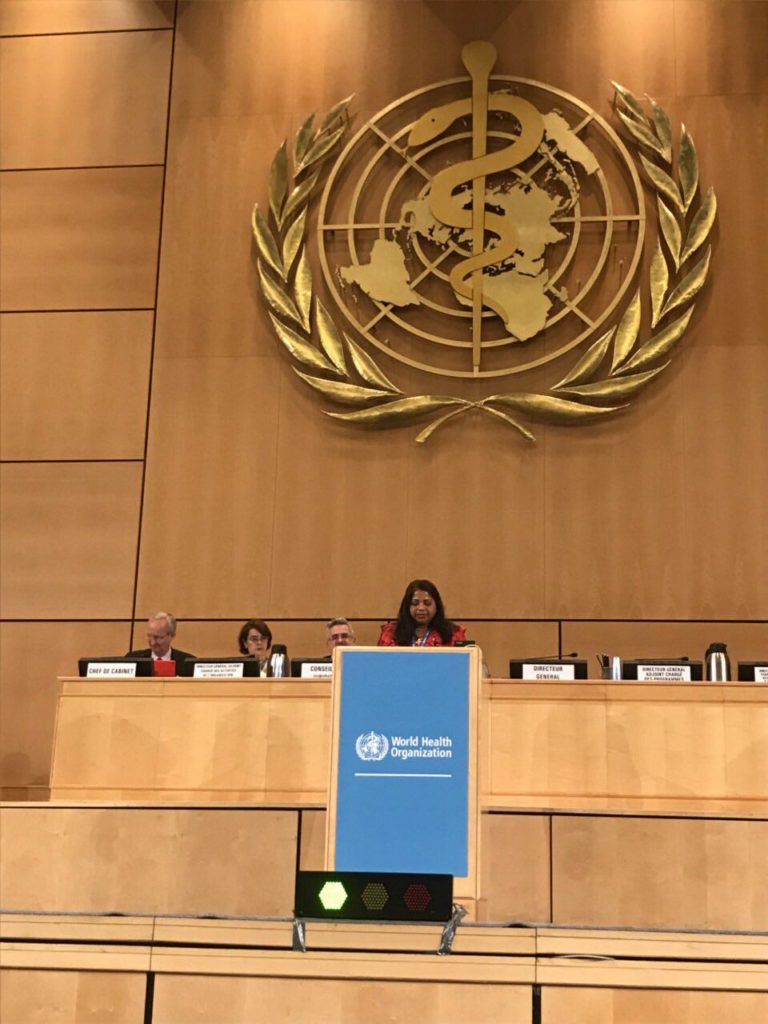 On the opening day of the assembly, Dr. Hala delivered the statement on behalf of Maldives on the topic "Health for all: Commit to Universal Health Coverage". She emphasized on the need to improve universal healthcare services by reducing inequalities and by improving access to services and medicines across the nation in an integrated, people-centered approach. Dr Hala acknowledged the challenges that Maldives as a small island nation face in the implementation of the sustainable development goals and thanked all who contribute to advancing the healthcare system in Maldives.
World Health Organization's 13th General Program of Work GPW (2019-2023), will be approved by the Member States during this year's World Health Assembly. The 13th GPW focuses on broadening of health coverage, health emergencies, and other health priorities. Further, the Assembly will discuss other important health issues worldwide and WHO's programme budget for the Member States.
A number of side events will also be carried out at the World Health Assembly of which Maldives would be co-sponsoring 2 side events. The Maldives delegation is scheduled to meet with delegations from Malaysia, China, Thailand, Nepal, and Cyprus to discuss bilateral collaborations and will be meeting with the Director General of WHO, Stop TB, and other health organizations as well.
As part of the 70th Anniversary of the World Health Organization, a Health Promotion event "Walk the Talk" was carried out yesterday in Geneva. The main purpose of this run/walk was to promote physical activity as part of a healthy sustainable future. The Maldivian delegation also took part in this event.